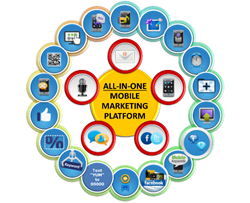 It is now possible for small and a medium sized businesses to adopt and implement strategies and technologies followed by large corporate entities to take full advantage of Mobile Commerce solutions from our company.
Carlsbad, CA (PRWEB) November 13, 2013
After a series of successful tests and demonstrations, ICREATE Technologies is officially launching the necessary technology to actually implement the proprietary Mobile Commerce enablement methodology - 'mPEARL' in small and medium sized businesses in the United States. While any business anywhere in the world could take advantage of our Mobile Website Design, Optimization and Hosting services, our Mobile Marketing services are currently available only in the US market.
Any business with a desktop website must have a mobile-device friendly website in order to remain visible on smartphone browsers. Any business with a marketing strategy and budget and currently investing on print, email and media marketing should consider Mobile Marketing as a viable channel for reaching their consumer base. As opposed to blind and blanket marketing through traditional channels of print, media and email, which are increasingly showing declining open and response rates, Mobile Marketing on the other hand shows over 98% open rates and a whopping 25%+ response rates, which is unheard of in traditional marketing.
ICREATE Technologies is now in a position to design custom, lightweight, crisp, Mobile websites for small and medium sized businesses literally in any commercial vertical, by extending their desktop versions if any, and creating a new brand in the Mobile Commerce market. These websites are designed to offer easy access to information with a few taps on the smartphone leading to a call to action such as a direct phonecall to the business, a purchase checkout process or a referral in social media channels. All such Mobile websites are duly optimized for Mobile Search engines for faster indexing and better ranking.
"With print readership dropping to 23%, television viewership dropping to 50% and email open rates dropping to 21% from 2002 to 2012, it is clear that these channels of advertising are no longer as effective as they were in their heyday," said Neeta Ghosh, Managing Partner at ICREATE Technologies. "Small and medium sized businesses need to really focus on maximizing ROI of their marketing budget by adopting Mobile Marketing as a new channel to reach a 100% opt-in permission based customer base for customer acquisition, customer engagement, customer satisfaction and customer retention to facilitate voluntary Word Of Mouth 'CrowdMarketing' through SMS message forwarding and social media."
The Mobile Marketing platform is compliant with the TCPA (Telephone Consumers Protection Act) making making it safe for clients to acquire new customers using QR codes and Mobile keywords. This platform allows clients to create and broadcast marketing, information and Voice Of the Customer related messages directly on the mobile phones of their 100% opt-in customer base. With full analytical reports clients can derive immediate critical business intelligence from different campaigns that they run from this Mobile Marketing platform to make dynamic, quick and intelligent business decisions without spending a fortune.
ICREATE Technologies offers both Self Service and Managed Service Mobile Marketing.
ICREATE Technologies LLC based in Carlsbad, CA is focused entirely on enabling Mobile Commerce in small and medium sized businesses. We offer Mobile Commerce Consulting, design Mobile Websites duly optimized for Mobile Search Engines and also offer a feature rich Mobile Marketing platform that enables our clients to reach 100% opt-in subscribers directly on their cellphones with marketing and information messages and leverage the Voice of the Customer to derive intelligence for making dynamic and better business decisions. We combine our 'mPEARL ' Mobile Commerce methodology with our technology to offer an effective and viable strategy for small and medium sized businesses to significantly reduce costs, increase brand awareness and increase revenues, consequently improving their bottomline.