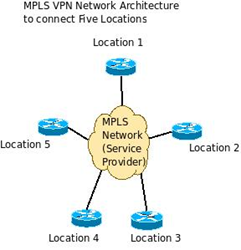 Solveforce's Expands their MPLS VPN services into Raleigh, NC effective immediately
Raleigh, NC (PRWEB) December 09, 2015
Solveforce has planned this alliance to be effective in December 2015. Raleigh, NC commercial locations will benefit the most as outlined herein.
Multi-Protocol Label Switching is a method of ensuring packets of data get where they're supposed to, via a sensible route, and that packets are prioritized appropriately.
Packets are labeled with one or more labels. As each packet passes through the MPLS VPN (http://mplsvpn.biz/) network, labels may be added, replaced or stripped off. The network distributes information so that each switch knows what it is supposed to do if it encounters a particular label.
The Benefits of MPLS Networks:

Improve Uptime - by sending data over an alternative path in less than 50 milliseconds (if one exists). MPLS also reduces the amount of manual intervention the network provider has to do to create a WAN, reducing the likelihood of human error bringing down the circuit.
Create Scalable IP VPNs - with MPLS it's easy to add an additional site to the VPN. There is no need to configure a complex mesh of tunnels, as is common with some traditional approaches.
Improve User Experience - by prioritizing time-sensitive traffic such as VoIP. Multi-Protocol Label Switching offers multiple Classes of Service, enabling anyone to apply separate settings to different types of traffic.
Improve Bandwidth Utilization - by putting multiple types of traffic on the same link, this can let high priority traffic borrow capacity from lower priority traffic streams whenever required. Conversely, when the lower priority traffic needs to burst beyond its usual amount of bandwidth, it can use any capacity that's not being used by higher priority services.
Hide Network Complexity - an MPLS VPN (http://mpls-vpn.net/) connection between two sites can be configured to act like a long ethernet cable, with the hops involved hidden from view. This is sometimes known as VPLS (Virtual Private LAN Service).
Reduce Network Congestion - Sometimes the shortest path between two locations isn't the best one to take, as congestion has made it less attractive (at least for the time being). MPLS offers sophisticated traffic engineering options that enable traffic to be sent over non-standard paths. This can reduce latency (the delay in sending/receiving data). It also reduces congestion on the paths that have just been avoided as a result of traffic engineering.
About Solveforce MPLS VPN
Mplsvpn.biz is managed by SolveForce, a Master Agency that offers its consulting services in North Carolina, and has been providing business solutions since 2004. They are recognized all over the globe as a private ethernet & MPLS VPN (http://www.solveforce.com/mpls) agency that offers advisory and auditing services for the telecommunications and Internet industry. Founded by Ron Legarski, this master agency has accomplished many awards and achievements. With high quality telecom services to offer, the company's future plans are to integrate even more cities and companies in their coverage areas and remain the leader in the telecom & internet solutions industry.
SolveForce.com, LLC can be reached at 888-765-8301 via toll free or visit one of their real-time quoting websites at http://www.solveforce.com/north-carolina/.