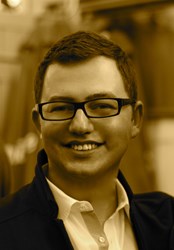 One of the smartest executives of his generation in my industry.
San Francisco, CA (PRWEB) September 11, 2013
SmartRecruiters, the hiring platform, has hired Maksim Ovsyannikov to be the company's Senior Vice President of Product. Most recently, Ovsyannikov led product strategy for the Work.com product at Salesforce, joining the company via an acquisition of Rypple where he was the VP of Product Management. Ovsyannikov brings more than a decade's worth of product management and strategy experience in the area of social HR Technology to SmartRecruiters, with tenures at Saba, Zendesk, Rypple and Salesforce.com
Recognized as a thought leader, Ovsyannikov is sought after as the voice of the next generation in HR technology; he will be speaking at the First Annual NextGen Influencers Panel at the Human Resource Executive's Technology Conference in October.
"The reason I chose Maksim for the NextGen panel," says Bill Kutik, Conference co-chair and HR tech columnist for Human Resource Executive for 24 years, "is through many professional encounters, I have found him to be one of the smartest executives of his generation in my industry."
"As we continue to build the hiring platform, SmartRecruiters looks to bring the best and brightest to our company," said Jerome Ternynck, CEO and founder of SmartRecruiters. "Maksim is an important part of our vision for smart, social recruiting that benefits our customers and the industry as a whole."
"Recruiting is the number one problem to solve within the HR Technology market today," said Maksim Ovsyannikov. "At SmartRecruiters, I am able to add to a great team that is changing the recruiting process to be collaborative and social while helping others build better companies."
Ovsyannikov holds a Bachelors of Arts in Economics from Stanford, and a Masters in Business Administration from Santa Clara University.
About SmartRecruiters
SmartRecruiters is the hiring platform. Leveraging the latest cloud technologies along with intuitive design, the SmartRecruiters platform gives social enterprises everything they need to source, engage and hire top talent. The mission of SmartRecruiters is to eradicate unemployment by removing friction in the labor market. Its 50,000+ customers have created 250,000+ jobs. Founded in 2010, SmartRecruiters is backed by Mayfield and Rembrandt Venture Partners. Hiring Made Easy.