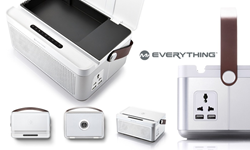 Mr. Everything will be displayed at CES 2016, which runs January 6-9, 2016, in Las Vegas, Nevada.
New York, NY (PRWEB) November 12, 2015
Mr. Everything today announced that it has been named a CES 2016 Innovation Awards Honoree for Mr. Everything. Products entered in this prestigious program are judged by a preeminent panel of independent industrial designers, independent engineers and members of the trade media to honor outstanding design and engineering in cutting edge consumer electronics products across 27 product categories.
Mr. Everything is a Kickstarter campaign that successfully raised over its $100,000 goal with the help of 267 backers. It is the ultimate charging companion equipped with lighting, speaker station and can charge everything from laptops to car batteries.
Mr. Everything is an all-in-one charging station that serves to keep users prepared in any situation through countless features including LED lighting and multiple charging outlets. Mr. Everything contains four USB ports and a Qi wireless charging pad that have the ability to charge an iPhone 6 up to 15 times, a MacBook up to two times and can even jump a dead car battery. The built-in carrying handle makes it easier for users to transport Mr. Everything wherever their adventures may take them, from camping to tailgating. Its rechargeable lithium-ion battery lets you enjoy 33 hours of uninterrupted music and up to 100 hours of LED lighting that can also double as a bedside lamp. There is an additional option to purchase a Mr. Everything+ which offers all the same features as the regular Mr. Everything, plus a universal AC power outlet. Users will be able to access and control Mr. Everything through the new, easy-to-use custom built app. They will be able to check battery status and control volume, power and color-changing lighting. This easy-to-use app will also let users download freely, on iTunes and the Google play store. The convenience and portability of Mr. Everything takes away the worry of having important electronic devices die suddenly in times of need. Mr. Everything is available for a limited time pre order price of just $249, while Mr. Everything+ is available for $349.
The prestigious CES Innovation Awards are sponsored by the Consumer Technology Association (CTA)TM, the producer of CES 2016, the global gathering place for all who thrive on the business of consumer technologies, and have been recognizing achievements in product design and engineering since 1976.
Mr. Everything will be displayed at CES 2016, which runs January 6-9, 2016, in Las Vegas, Nevada. A selection of Honorees will also be displayed at CES Unveiled New York, which features dozens of exhibitors and networking opportunities and runs 4:30-7:30 PM November 10 at the Metropolitan Pavilion in New York.
Entries are evaluated on their engineering, aesthetic and design qualities, intended use/function and user value, how the design and innovation of the product directly compares to other products in the marketplace and unique/novel features present.
Products chosen as CES Innovation Honorees reflect innovative design and engineering in some of the most cutting edge tech products and services coming to market.
CES 2016 Innovation Honoree products are featured on CESweb.org/Innovation, which lists product categories, as well as each product name, manufacturer information, description, photo and URL.
ABOUT MR. EVERYTHING
Mr. Everything is based in Irvine, California. The company is comprised of a group of entrepreneurs with a mission to create smart devices that make people's lives easier. Mr. Everything and Mr. Everything+ are the first products in the company's line. For more information, please visit http://www.MrEverything.net.