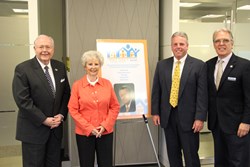 I am proud that Tim, and all the nominated real estate professionals within MRIS's footprint, devote time to help their communities and those less fortunate.
Rockville, MD (PRWEB) September 20, 2013
MRIS, the industry-leading Mid-Atlantic Multiple Listing Service (MLS) that facilitates nearly $103 million a day in real estate transactions, yesterday announced the winner of the second annual Adam D. Cockey, Jr. Community Leader Award. MRIS presented the award to Alfred B. "Tim" Kagan, Jr., REALTOR® at Benson & Mangold, LLC, at a ceremony at the MRIS headquarters Thursday.
Named after former MRIS Chairman of the Board, Adam D. Cockey, Jr., for dedicating over 40 years to philanthropic efforts, the award honors real estate professionals who have demonstrated an unsurpassed commitment to community service and activism.
"Tim represents what this award embodies and then some. He not only is an exemplary real estate professional but he has dedicated his life to making other people's lives better. I am proud that Tim, and all the nominated real estate professionals within MRIS's footprint, devote time to help their communities and those less fortunate," said MRIS CEO David Charron. "Tim serves as a great role model for all real estate professionals."
Kagan is actively involved with the United Fund of Talbot, Meals on Wheels and the International Rotary. Kagan has dedicated 32 years to the United Fund of Talbot, an organization that funds non-profit organizations that benefit the community in a wide range of activities from mental health services, domestic violence, Court Appointed Special Advocates (CASA), and Girl and Boy Scouts. Recognizing declining individual donations, Kagan helped establish a committee to encourage corporate gifts, raising $500,000 for the United Fund.
Additionally, Kagan is an active member of Rotary International and was selected to travel to New Delhi, India to administer vaccinations to children in an effort to combat polio. Despite incredibly challenging environmental and health conditions, Kagan administered vaccines to approximately 900 children. Through this effort and other outreach efforts, no new cases of polio were reported through all of 2011.
Kagan's humanitarianism and dedication was further demonstrated when administering vaccines he noted that one child was quite ill. Kagan discovered the child needed heart surgery, and since the family had no money, he arranged to have the child receive the necessary surgery paying for the procedure with personal funds.
"It's an incredible honor to receive this award, especially since it is named after Adam," said Kagan. "I hope to encourage more real estate professionals to give their time to various charitable organizations to help those less fortunate in our communities and abroad."
As recognition for his achievement, Kagan will receive a donation for the organization of his choice. This year, the top five finalists will all receive donations to their organizations as well. The finalists included Christine Thomas, from Coldwell Banker Residential Brokerage in Baltimore, MD, and Linda Wolf, from Coldwell Banker Residential Brokerage in Alexandria, VA and the semifinalists were Irene Mabry-Moses, Faith Realty, LLC in Parkville, MD and Jeremy Lichtenstein from RE/MAX Realty Services in Bethesda, MD.
For more information, please visit http://www.mris.com/MRISCares.
About MRIS
Metropolitan Regional Information Systems, Inc. (MRIS) celebrates 20 years of Real Estate in Real Time™. We're a leading provider of real estate information technology and services, and are frequently ranked among the most productive Multiple Listing Services (MLS) in the nation, facilitating over $38 billion in system wide sales in 2012. In its core market, MRIS supports over 43,000 real estate professionals spanning the Mid-Atlantic region, including Maryland, Northern Virginia, Washington, D.C. and parts of Pennsylvania, Delaware and West Virginia. MRIS provides a portfolio of technology solutions and proprietary databases for real estate professionals, as well as broker and agent software products and an industry-leading consumer portal, MRIShomes.com (formerly HomesDatabase). In addition, the CURE Solutions Group, a subsidiary of MRIS, provides proprietary back-end technology to other MLS systems, which serves nearly 150,000 customers each day. Visit MRIS at MRIS.com and our web based TV station, mrisTV.com. "Like" us on Facebook/MRISonFB, follow us on Twitter, @MRIS_REal_News and be sure to visit MRISblog.com for real-time news and company updates.