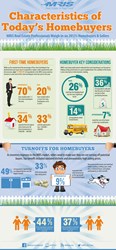 Rockville, MD (PRWEB) September 10, 2013
MRIS, the industry-leading Mid-Atlantic Multiple Listing Service (MLS) that facilitates nearly $103 million a day in real estate transactions, today released the results from its 2013 Homebuyer & Seller survey.
The survey drew responses from over 1,100 real estate professionals within MRIS's geographic footprint, including Washington D.C., Baltimore, Northern Virginia, and parts of West Virginia and Pennsylvania, focusing on the pulse of homebuyers and sellers in their regions.
"Our real estate professionals are on the front lines of the housing scene and have the inside track on what really influences homebuyer and seller decisions in our region," MRIS Director of Product Innovation, Marketing & Education Andrew Strauch. "Insights like these will help to further strengthen our industry as we enter the second half of the year."
The survey found that approximately 44 percent of real estate agents are largely working with Generation X buyers, followed closely by 37 percent reporting they mostly work with Millennials. These results are in line with the recent survey by the National Association of REALTORS® (NAR).
The survey also looked at first-time homebuyers, buyers key considerations when purchasing a home, and the top turnoffs that sellers need to be aware of when listing their home.
First-time Homebuyers
While on the national level the percentage of first-time homebuyers has declined from past years due to competition, tighter credit requirements and the recession, over 73 percent of respondents in the MRIS survey noted an increase or same level of first-time homebuyers from last year to this year. In addition:

Approximately 70 percent have worked with 1-5 first-time homebuyers this year and over 20% have worked with 6 or more first-time homebuyers so far in 2013.
Approximately 34 percent reported that the typical entry home price for these homeowners is $200,000 – 300,000, while 33 percent said the typical price was $100,000 – 200,000.
Homebuyer Key Considerations
MRIS's real estate professionals indicated that most homebuyers are focused on finding a fairly priced home in a good neighborhood. The condition of the home is also a key factor in their decision-making.
Approximately 36 percent of respondents indicated that the price of a home was key to their purchasing decision.
Over 26 percent cited that the Neighborhood was the most significant factor.
Nearly 14 percent of respondents noted School District and approximately 7 percent noted size of home as top considerations.
"While this isn't new information, it does confirm the importance of why home sellers should work with their agent to price their home properly," said Strauch. "Even during the recent market of tighter inventory, we were seeing high days on market for homes that were overpriced. Experienced real estate professionals will work with sellers to find the perfect balance between attracting offers and receiving top dollar for your home."
Turnoffs for Homebuyers
As inventory improves in the MRIS market, sellers need to make sure they are not turning off potential buyers. Top turnoffs included outdated kitchens and unreasonably high asking prices.
49 percent of respondents reported that an outdated kitchen was the biggest turnoff followed by 33 percent that cited listing price was too high.
Approximately 9 percent responded with rude homeowners as the top turnoff for potential buyers.
Real estate professionals also listed bad smells (cooking, smoking, pets, mold, etc.), a cluttered house, and unkept yard/property as other turnoffs.
"Putting a small amount of money into updating a kitchen can not only improve your sale price, but it can prevent buyers from being turned off at first glance," said Strauch. "For a few hundred dollars, you can spruce up the kitchen with some paint, new hardware on the facets and cabinets, and updated light fixtures. If you have a larger budget, update the cabinets and appliances to instantly improve your home's appeal."
For more information on the MRIS 2013 Homebuyer and Seller Survey, please contact Gina Zuk at gina(at)abelcommunications(dot)com.
ABOUT MRIS
Metropolitan Regional Information Systems, Inc. (MRIS) celebrates 20 years of Real Estate in Real Time™. We're a leading provider of real estate information technology and services, and are frequently ranked among the most productive Multiple Listing Services (MLS) in the nation, facilitating over $38 billion in system wide sales in 2012. In its core market, MRIS supports over 43,000 real estate professionals spanning the Mid-Atlantic region, including Maryland, Northern Virginia, Washington, D.C. and parts of Pennsylvania, Delaware and West Virginia. MRIS provides a portfolio of technology solutions and proprietary databases for real estate professionals, as well as broker and agent software products and an industry-leading consumer portal, MRIShomes.com (formerly HomesDatabase). In addition, the CURE Solutions Group, a subsidiary of MRIS, provides proprietary back-end technology to other MLS systems, which serves nearly 150,000 customers each day. Visit MRIS at MRIS.com and our web based TV station, mrisTV.com. "Like" us on Facebook/MRISonFB, follow us on Twitter, @MRIS_REal_News and be sure to visit MRISblog.com for real-time news and company updates.