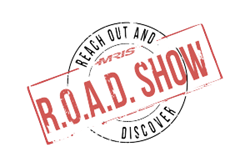 The MRIS R.O.A.D. Show is a great opportunity for real estate professionals to learn about the latest and greatest in real estate technology.
ROCKVILLE, MD (PRWEB) May 07, 2015
MRIS, the industry-leading Mid-Atlantic Multiple Listing Service (MLS) that facilitates nearly $125 million a day in real estate transactions, has announced the launch of its 2015 R.O.A.D. Show series.
The R.O.A.D. Show, which stands for Reach Out and Discover, is a traveling open house event that will feature opportunities for MRIS customers to network with other real estate professionals and the MRIS team, test drive new MRIS technology and meet with representatives from MRIS's key partners to learn about core products and services to help grow their business.
MRIS is bringing the R.O.A.D. Show to its 45,000 customers with seven different events around the Mid-Atlantic. Events will be held between June 4 and June 24 in Cumberland, Baltimore, Bethesda, Chestertown and Hagerstown, Maryland and in Winchester and Springfield, Virginia. All seven events are free for MRIS customers to attend and will run from 10 a.m. to 3 p.m.
"The MRIS R.O.A.D. Show is a great opportunity for real estate professionals to learn about the latest and greatest in real estate technology," said David Charron, MRIS President and CEO. "We are thrilled with the buzz that is already generating about these events. Our customers are excited to learn about new tools to grow their businesses and are deeming the R.O.A.D Show as the 'can't miss' real estate technology event of the year."
In a keynote speech, Charron will share his personal insight on the future of real estate. He will address how technology will impact real estate relationships and the role of agents and associations. Charron will present his keynote twice at each event from 11:30 a.m. to noon and from 1:00 p.m. to 1:30 p.m.
Demonstrations and representatives will be available for popular MRIS products including Showingtime, MRIS Marketing Center, MRIS Close It, SmartCharts, Homesnap Pro, Mozaic, Authentisign, Cloud CMA and Xactsite. In addition, MRIS will have Support Center, Compliance, Marketing, Product and Executive teams available to answer any questions about MRIS products and services.
To learn more and to register for the MRIS R.O.A.D. Show near you, please visit http://www.mrisroadshow.com/. Registered attendees will have opportunities to win multiple prizes, including a free year of MRIS subscription fees.
ABOUT MRIS
MRIS is a leading provider of real estate information technology and one of the nation's leading multiple listing services (MLS), facilitating over $45 billion in system wide sales in 2014. The company supports over 45,000 real estate professionals in the Mid-Atlantic region, including Maryland, Northern Virginia, Washington, D.C. and parts of Pennsylvania, Delaware and West Virginia. MRIS provides its customers with a portfolio of best-in-class desktop, mobile and cloud-based technologies to improve the real estate transaction process for both real estate professionals and homebuyers and sellers. For more information, please visit MRIS.com or MRIShomes.com to search for thousands of available homes in the Mid-Atlantic region.