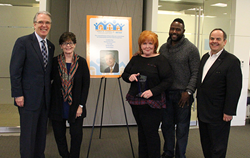 We're incredibly grateful for real estate professionals like Christine who devote their time to better our community.
ROCKVILLE, MD (PRWEB) February 03, 2015
MRIS, the industry-leading Mid-Atlantic Multiple Listing Service (MLS) that facilitates nearly $125 million a day in real estate transactions has announced that Christine Thomas, REALTOR® at Coldwell Banker Residential Brokerage in Roland Park is the winner of the third annual Adam D. Cockey, Jr. Community Leadership Award.
The award, named after former MRIS Chairman of the Board, Adam D. Cockey, Jr., for dedicating over 40 years to philanthropic efforts, honors real estate professionals who have demonstrated an unsurpassed commitment to community service and activism.
"Christine is an exemplary real estate professional who has demonstrated her commitment to helping others through her work with multiple inner city youth programs. We're incredibly grateful for real estate professionals like Christine who devote their time to better our community," said MRIS President and CEO David Charron. "Christine's enthusiasm and unrelenting effort to help those who are less fortunate has made an incredible impact."
Thomas has devoted the past seven years to working with inner city youth and has been a key voice of change. She developed a business and fundraising plan for a local football team who made it to the national championships in Florida but could not afford to go. In less than a week, Thomas helped raise over $32,000, gathered sports equipment donations, negotiated rates for the bus, hotel and food, and arranged for a tutor to travel with the team.
In 2011, along with retired NFL player Keion Carpenter, Thomas co-founded and served as President of Shutdown Academy, a non-profit academic institution that offers school mentoring, tutoring services and sports to inner city youth. Thomas started Shutdown Academy to offer children an opportunity for education and mentoring after the closing of many local recreation centers.
In addition, Thomas partners with multiple Baltimore, Maryland schools to provide at-risk youth with tutoring services. With Thomas's support, the children in her programs have overcome incredible obstacles and several have been accepted into college with a scholarship.
Thomas previously served as President of the Sandtown-Winchester Wolverines Football Program and the Vice President of the Metro Baltimore Pop Warner Football Conference, benefitting over one thousand children, coaches and volunteers. She also spearheaded a Think Pink Breast Cancer Awareness Program for Baltimore youth football programs to educate participants and spectators on breast cancer awareness and testing.
Thomas' humanitarian and community service work is widely recognized in Maryland, Washington, D.C., Delaware, Virginia, and Pennsylvania. She is a past recipient of the Greater Baltimore Board of REALTORS® Special Recognition Award for outstanding community service.
As recognition for her achievement, Thomas received a donation to the organization of her choice. MRIS presented the award to Thomas at a ceremony at MRIS office headquarters in December.
For more information on the Adam Cockey Jr. award, please visit http://www.mris.com/MRISCares.
ABOUT MRIS
Metropolitan Regional Information Systems, Inc. (MRIS) is Real Estate in Real Time™. We're a leading provider of real estate information technology and services, and are frequently ranked among the most productive Multiple Listing Services (MLS) in the nation, facilitating over $45 billion in system wide sales in 2014. In its core market, MRIS supports over 45,000 real estate professionals spanning the Mid-Atlantic region, including Maryland, Northern Virginia, Washington, D.C. and parts of Pennsylvania, Delaware and West Virginia. MRIS provides a portfolio of technology solutions and proprietary databases for real estate professionals, as well as broker and agent software products and an industry-leading consumer portal, MRIShomes.com (formerly HomesDatabase). In addition, the CURE Solutions Group, a subsidiary of MRIS, provides proprietary back-end technology to other MLS systems, serving nearly 110,000 customers each day. Visit MRIS at MRIS.com and our web based TV station, mrisTV.com. "Like" us on Facebook/MRISonFB, follow us on Twitter, @MRIS_REal_News and be sure to visit MRISblog.com for real-time news and company updates.