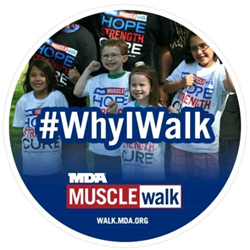 We're working to make sure this year's Muscle Walk is going to be bigger than ever, and we're excited to be working with a charity like the Muscular Dystrophy Association.
San Antonio, TX (PRWEB) January 19, 2016
Lochte Insurance Agency, a San-Antonio based insurance firm with offices serving communities in south central Texas, is announcing a charity drive to publicize and support the Muscle Walk of San Antonio, an annual event sponsored by the Muscular Dystrophy Association. The agency's mission is to provide the funds to send one child in-need to the MDA Camp.
Muscle Dystrophy, or MD, is a genetic disorder that affects motor muscles in the body, altering or inhibiting movement. MD can affect children, teens, and adults, and the disease leads to gradual loss of motor function that prohibits normal daily movements that most individuals take for granted, such as walking or sitting upright.
"We've worked with the MDA in the past, and have learned about the benefits they can provide to those suffering from MD. That's why we're on a mission to send another child in-need to this camp that will make such a positive impact in their life," says Scott Lochte, founder and manager of Lochte Insurance Agency.
To help get the word out about their mission to send one in-need child to MD camp, Lochte and his team have established a social media presence and will launch an email awareness campaign to notify community leaders. As well, Lochte Insurance Agency will feature the MDA mission in the newest edition of "Our Hometown," an online community magazine published by the Lochte Insurance team: http://www.lochteinsurance.com/Our-Hometown-Magazine_41.
On top of assisting the MDA with the annual Muscle Walk of San Antonio, Lochte and his team have committed to a continuing community involvement campaign that will include finding and working with at least one new San Antonio area charity every other month.
Those who want to join the Lochte Insurance team in the charity effort to support the MDA Muscle Walk are encouraged to make a direct contribution to the cause via the Lochte Insurance website: http://www.lochteinsurance.com/Camp-Hope-For-A-Child-In-Need_22_community_cause. Those who want track other Texas-based charities supported by Lochte Insurance Agency can bookmark the Lochte Community Causes page here: http://www.lochteinsurance.com/community-cause.
About Lochte Insurance Services
Lochte Insurance Services is dedicated to providing customers with an outstanding level of professional service. We look forward to helping local families and businesses like yours protect the things that are important - your family, home, car and more. The Lochte Insurance team can also help you put together a strategy to achieve your financial goals. Lochte Insurance Agency is located at 8808 Huebner Road Suite 120 in San Antonio, TX 78240 – to contact a helpful and knowledgeable representative from Lochte Insurance Services, please visit http://www.lochteinsurance.com/ or call (210) 691-0040.