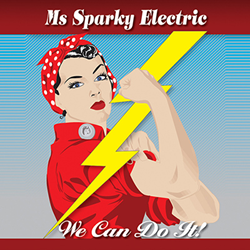 Encinitas, CA (PRWEB) June 13, 2014
San Diego North County electrician Ms Sparky Electric today announces that Accion listed the small business in its Orange Book. A popular business listing publication, the Accion Orange Book lists "everyday entrepreneurs," like Ms Sparky Electric, that have fewer than five employees and that demonstrate the positive impact of small businesses on community and economic growth.
Accion U.S. Network partner, the Aspiration Fund, works with underserved businesses including minority and women-owned small businesses to grow and develop their businesses through income generation, asset building and community involvement. As a result of Ms Sparky Electric's inclusion in the Orange Book, the Aspiration Fund featured Ms Sparky Electric business owner and licensed electrician Mary Stapleton in a video that introduces business owners throughout the United States to Accion and the Aspiration Fund.
Both the Accion Network Aspiration Fund video and the Orange Book listing connect to Ms Sparky Electric's commitment to professionalism and high standards, as well as the company's passion for introducing and encouraging young women to get involved in careers in electrical contracting.
A woman-owned and operated business since its founding in 1997, Ms Sparky Electric stands out for its community involvement, an important factor for recognition by Accion and the Aspiration Fund. Ms. Stapleton, whose company is an equal opportunity employer, recognizes the importance of introducing young women to a career field that is still largely under-explored. Her success with Ms Sparky Electric, confirmed by consistently high customer reviews, customer referrals throughout San Diego, and seventeen years in business exemplifies the Aspiration Fund's mission.
In her segment of the video, Ms. Stapleton says Accion is "a very important resource for the community." Accion Corporate Partner Jim Koch, Founder of the Boston Beer Company that brews Samuel Adams Beer, says, "over 95 percent of recipients use the money [they receive from Accion] successfully to grow their business." Mr. Koch's comment speaks to the success of businesses involved with Accion, like Ms Sparky Electric, and their impact on local communities around the country.
Ms Sparky Electric is a woman-owned San Diego North County small business. The company, established in 1997, is a Certified Women's Business Enterprise Company, a California Public Utilities Commission Supplier, and a member of the Better Business Bureau.