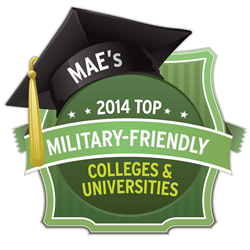 Minneapolis, MN (PRWEB) April 03, 2014
Military Advanced Education (MAE) has awarded Minnesota School of Business the designation of a Top Military-Friendly College in its 2014 Guide to Military-Friendly Colleges & Universities.
From community colleges to state universities, online universities and nationally known centers of higher learning, MAE's 2014 Guide to Military-Friendly Colleges & Universities provides potential students with information about institutions that go out of their way to give back to our men and women in uniform.
"Minnesota School of Business is extremely dedicated to helping our military students in any way we can," said Mike Hughes, director of Military Student Services at Minnesota School of Business. "We are honored to accept this award from Military Advanced Education and hope that the resources we provide continue to help men and women make the transition from military service to college as easy as possible."
A few of the attributes considered in evaluating this year's candidates for inclusion in the Guide are the flexibility of online learning options, extent of transfer credits accepted by degree level, on-campus ROTC, Servicemember Opportunity Colleges (SOC) participation, on-campus active duty/veteran assistance, the support provided to the families of servicemembers, faculty trained in veteran reintegration issues, presence on military installations, and full-time counselors trained in veteran-specific mental health concerns.
"Our staff used strict criteria to evaluate the submissions of the respondents, and we had a record number of schools participating this year. We believe the Guide serves as an invaluable tool for both education services officers and transition officers when advising servicemembers about their educational opportunities," said Kelly Fodel, MAE's editor.
Minnesota School of Business and its affiliate schools are proud to serve more than 1,200 military students and have awarded $5.2 million in military scholarships to active military, reserves, spouses and students.
To learn more about Minnesota School of Business visit http://www.msbcollege.edu, and see Military Advanced Education's 2014 guide to Military-Friendly Colleges and Universities visit http://www.mae-kmi.com.
________________________________________
ABOUT MINNESOTA SCHOOL OF BUSINESS
Minnesota School of Business is part of a premier, family-managed network of career colleges and universities. The schools prepare students for successful careers in a wide range of high-demand professions. Through its mission, We Care, the organization integrates hands-on and career-focused education with service- and applied-learning experiences that expose students to their communities and real-world learning. Programs offer undergraduate, diploma and graduate degrees in career fields, including business and accounting, health sciences, legal sciences, technology, creative media and applied arts. More than 30 programs are available online. All academic programs are accredited by the Accrediting Council for Independent Colleges and Schools (ACICS). For more information, visit http://www.msbcollege.edu.