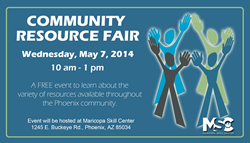 Phoenix, AZ (PRWEB) May 03, 2014
Maricopa Skill Center, a division of GateWay Community College, will be hosting its annual Community Resource Fair on May 7, from 10 a.m. to 1 p.m. This event is free and open to the public, and participants will have the opportunity to learn about resources available in the surrounding community.
Community members representing agencies and services in the Valley will be available to talk about what they provide. Representatives from the Greater Phoenix Urban League, Women's Health Coalition of Phoenix, Am Vets, Goodwill of Central Arizona, Habitat for Humanity and DES Division of Child Support are some of the community member attending.
This event will take place at the Maricopa Skill Center, 1245 E. Buckeye Rd. Phoenix, AZ 85034.
Reporters and photographers interested in attending, please contact Phoebe Volk.
About Maricopa Skill Center
Maricopa Skill Center is the Valley's leading workforce development center since 1962. Through education and training, MSC graduates possess the industry-identified skills necessary to achieve long-term economic independence. MSC offers a variety of certificate programs for careers in business, technology, health care, and trades, most of which can be completed in less than a year. Small class sizes, self-paced learning, and hands-on classrooms are just a few of the benefits of training at MSC. MSC is a division of GateWay Community College and a part of the Maricopa County Community College District.