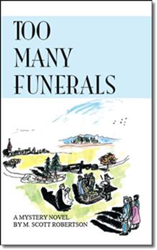 VICTORIA, British Columbia (PRWEB) October 22, 2014
Archdeacon Cec Plowright loved his life as a retired priest. When not voluntarily serving at his small town church in Saskatchewan, he was at home with his wife, Janet. While he had the occasional funeral service to lead, the Archdeacon was happy – that is, until a murderer came to his small town.
Author and former priest M. Scott Robertson invites readers to experience his crime thriller, "Too Many Funerals" (published by Trafford Publishing), which follows the Archdeacon and a young member of the Royal Canadian Mounted Police (RCMP) on the hunt for a killer.
Upon hearing complaints from local residents that there have been too many funerals as of late, the Archdeacon seeks help from his wife and a naïve and young member of the RCMP, Gordon. The three quickly realize there is a murderer on the loose, and that the Archdeacon himself could be next.
Readers will watch as the unlikely group of heroes race to solve the mysterious case before the body count gets any larger. Pulling from his own life experience as a priest, Robertson hopes that readers will not only enjoy his story, but learn a thing or two about the human spirit.
"Too Many Funerals"
By M. Scott Robertson
Softcover | 5 x 8 in | 288 pages | ISBN 9781412085847
E-Book | 288 pages | ISBN 9781466956940
Available at Amazon and Barnes & Noble
About the Author
M. Scott Robertson was a priest for 60 years before retiring. He has written numerous articles for newspapers, composed radio scripts and edited for magazines as well. His most recent book, "Too Many Funerals," follows an Archdeacon on the hunt for a killer. Robertson lives and writes out of Victoria, British Columbia.