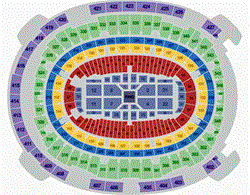 (PRWEB) November 13, 2013
Madison Square Garden is one of the most famous names and well known arenas in the world. Not only is the arena itself so well known, but it also stands in the most amazing city in the world; New York.
Also known as, the Garden, the arena brings in people to New York City from all over the country and world. It hosts about 320 events a year, ranging from musical concerts, to boxing, to basketball and hockey games. It is famously known for being home to the New York Knicks, of the NBA, and the New York Rangers of the NHL.
MSG can host up to 19,812 for basketball games, and 18,006 for hockey. The seating chart shows you everything to know about the Garden when going to watch a Knicks basketball game.
The team's bench is in front of section 6, if you are interested in getting up close and personal with some of New York's finest athletes, while the visitors bench is in front of section 4, if you are a fan of the "out of towners".
The garden offers club seats of course, in levels of platinum, gold, and silver. Despite the name, all club levels offer the same great benefits, and are different by just the rows. Those who purchase club level tickets get to enter the garden at a special separate entrance, and are provided with in seat service for food and drinks. As one can see from the map, club level seating is offered in sections 106-108, 116-118 and the first 12 rows of 105, 109, 115, and 119.
The most recent additions to the arena can be found in the Madison Club. This is an all-inclusive ticket package that will get fans a seat, as well as food and drink, but not alcohol. The seats are located in the arena's west end zone. This area is 23 rows from the ice hockey rink, and 30 rows from the basketball court.
One of the coolest seating areas in the stadium is the Delta Sky360 suite. This section is limited to 800 season ticket holders, and these fans will receive a chance to be inches from the players as they enter the arena, exclusive dining options, and a behind the scenes view of the Madison Square Garden broadcast.
Ticket Monster is the number one spot on the web to purchase tickets to Madison Square Garden concerts, Knicks games, and Rangers games. The Madison Square Garden seating chart provided should give fans a close look at where they would like to enjoy these events. Ticket Monster has thousands of tickets available for purchase, so visit http://www.Ticketmonster.com, or call 866-217-4777 today.