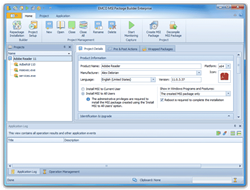 EMCO MSI Package Builder 5.2 features a new function that allows network administrators to digitally sign generated MSI packages.
San Francisco, CA (PRWEB) June 30, 2014
EMCO Software, a leading vendor of application packaging software for Windows, has announced the availability of a new version of its EMCO MSI Package Builder software. EMCO MSI Package Builder 5.2 features a new function that allows network administrators to digitally sign generated MSI packages. Signed MSI packages are accepted by Group Policy and Microsoft SCCM and can be distributed remotely over a LAN/WAN.
Network security is one of the main concerns for network administrators today. High-secure systems control software distribution to prevent deployment of malware or untrustworthy software. The main component of such control is checking digital certificates of deployed software. Many network administrators apply high-secure settings that only allow deployment of digitally signed software with valid digital certificates. A digital certificate is a sort of guarantee that the software is produced by a known trusted vendor and is unmodified by a third-party. If the corresponding properties are enabled, software distribution systems, such as Microsoft SCCM, for example, can deploy only digitally signed installation packages that have valid digital certificates. All other packages are rejected and cannot be deployed.
To make the generated MSI packages compliant with security requirements, EMCO MSI Package Builder allows automatic signing of created packages. To sign created packages, a network administrator has to purchase a digital signing key from one of the trusted security providers. The key obtaining procedure requires some paperwork to provide legal information about the company that purchases a key. A key includes information about the software vendor, so such a verification step is really required. Once the key is received, the network administrator can use it in EMCO MSI Package Builder and create signed MSI packages that are accepted in systems with strict security.
The new version of EMCO MSI Package Builder also includes a number of improvements and bug fixes. In particular, the new version includes an improved set of pre-defined filters that allow for a more effective filtering-out of unwanted captured changes. Also, it includes new features for a better repackaging of installations deploying drivers.
"The new feature that enables digital signing of MSI packages allows network administrators to generate MSI packages that can be deployed on systems with highest security levels. Now MSI packages generated by EMCO MSI Packages Builder are accepted by systems using complex antiviruses and application lockers," Thorarinn Oskarsson, CEO at EMCO Software, says.
Product Information
For detailed information on the application features, refer to the EMCO website at http://emcosoftware.com/msi-package-builder/convert-exe-to-msi. Information about the MSI creation options is available at http://emcosoftware.com/msi-package-builder/create-msi-package.
Pricing and Availability
EMCO MSI Package Builder is available in two editions: Professional and Enterprise. Both editions include changes monitoring features that can be used to convert non-silent installations into silent MSI packages. The Enterprise edition features the advanced monitoring technology, which allows repackaging installations that deploy Windows services. Any edition of the application may be evaluated for free during 30 days. The prices start at $499 per license for the Professional edition of the application. More detailed information is available at http://emcosoftware.com/msi-package-builder.
About EMCO Software
EMCO Software is a provider of integrated software solutions that help organizations to reinvent approaches to their computer networks management. EMCO Software award-winning products enable organizations to manage their IT environments remotely and automate their network administration procedures, including network inventory, software deployment, power management, and network & security control. Founded in 2001, EMCO Software is headquartered in Reykjavik, Iceland, with operations around the globe. Today, more than 20,000 organizations in 85 countries, including Fortune 100 and Fortune 500 companies, trust EMCO Software products.