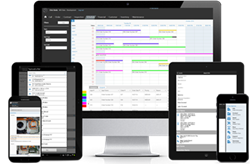 Milwaukee, WI (PRWEB) July 24, 2015
MSI Data, a leading provider of field service management software, announces today its Field Force Partner Program, offering new partner categories leading up to Sage Summit 2015. MSI is expanding its partner community and will be recruiting dozens of new partners at Sage Summit in New Orleans, July 27th through July 30th at Booth #556.
MSI has expanded its partner program to provide Sage VARs with several options for increasing revenue and margin. Marketplace Partners work side by side with MSI's team to proactively market field service solutions to current and prospective clients. Marketplace Partners follow a co-sales model and work with MSI from marketing to demo to sale. MSI provides a host of marketing, sales, demo, and implementation resources as part of the program.
"The Marketplace Partner program is very attractive to VARs and solution providers," said Kelley Starr, Director of Business Development at MSI. "We provide the VARs with the tools they need to win opportunities and offer an attractive margin to our partners who participate, but there's not the typical investment you see under traditional reseller models."
By partnering with a reputable field service software vendor under a co-sales model, Sage VARs open themselves up to new opportunities without over-committing the sales team. A co-sales referral model provides significant revenue without the typical investments required in reseller programs.
Field service is complex and has a large learning curve for consultants. By taking advantage of MSI's field service expertise to help sell to new and existing Sage customers, Sage VARs essentially extend their staff. MSI works with the VARs to find their clients the best integrated solution to meet their business needs.
MSI launches new partner program to meet growth in the field service market and demand for integrated enterprise software
Positive VAR response to the MSI program is driven by two major factors: continued double-digit growth of the field service market segment, and the desire for customers to integrate with their existing ERP systems, which calls on the expertise of their ERP advisor.
Studies show that when there is an investment in field service software, integration to ERP is a key decision criterion. ERP solutions providers have the project planning skills and relationships to bring to the table.
As solution providers expand product offerings, they are seeking key best-of-breed add-ons and product extensions that work across different ERP platforms. For example, many Sage VARs offer cloud-based solutions, like NetSuite, as an upgrade path. Service Pro works with both.
With its Field Force Partner recruiting initiative, MSI will expand the number of partners it works with in all partner options. In the coming months, MSI expects to announce additional partner categories.
About MSI
MSI develops cloud-based enterprise, scheduling, and mobile software that helps companies improve the productivity of their field workforce. MSI Data's powerful suite of field workforce software automates field service, inspections, repairs, preventive maintenance, audits and other critical field-driven business processes. MSI replaces paper and disconnected spreadsheet-based business processes with highly efficient, end-to-end processes through the combination of mobile technology for field workers and ERP, CRM and accounting systems integration. Whether deployed in the cloud or on-premises, MSI field workforce software applications are easy to acquire, easy to deploy and deliver enterprises with rapid return on investment. To learn more about MSI, please visit: http://www.msidata.com.