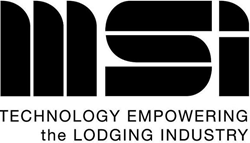 Silver Spring, MD (PRWEB) November 11, 2014
Merchant Link, a leading provider of payment gateway and data security solutions, is pleased to announce that MSI's next generation products and solutions are now even more secure with the integration of Merchant Link's tokenization product, TransactionVault and Point-to-Point solution TransactionShield to MSI CloudPM.
"We value the experience Merchant Link brings to the relationship with regards to the implementation of multi-layered lodging data security solutions," shared Rick Munson, President & CEO, MSI. "The company's comprehensive security products provide the flexibility to protect both our premise based and cloud based products."
MSI Solutions has been rolling out MSI CloudPM with Merchant Link's TransactionVault and TransactionShield solutions, along with the BizPortalTM reporting solution for corporate accounting and on-property financial professionals. TransactionVault removes guest credit card data from hoteliers' systems and stores it in a secure, hosted "vault" – away from the business and safe from hackers. TransactionShield encrypts data at the point of interaction and protects it as it travels through the hotel's IT environment.
"Merchant Link is delighted to advance our relationship with MSI Solutions on this security initiative. Our security solutions provide an exceptional opportunity for MSI's clients to enhance their payment card security capabilities," stated Laura Kirby-Meck, EVP Sales & Marketing, Merchant Link.
# # #
About Multi-Systems, Inc. (MSI)
MSI (Multi-Systems, Inc.) is a leading supplier of cloud-based hotel technology and guest service solutions since 1990. With an installed customer base of more than 5,800 hotel properties throughout North America, MSI is a one-source solutions provider of fully integrated, cloud-based hotel technology services. MSI TrūCloud™ services include: guest and property management, CRS and channel management, secure credit card processing, guest loyalty and national sales, sales and catering, mobile solutions, and web booking engines. For more information on MSI, visit http://www.msisolutions.com.
About Merchant Link
Merchant Link is a leading provider of cloud-based payment gateway and data security solutions, removing the risk and hassle of payments for more than 300,000 hotel, restaurant and retail locations. Founded in 1993 and headquartered in Silver Spring, MD, we currently enable more than 4 billion transactions annually for some of the world's best-known merchants, providing connectivity to the major U.S. payment card processors. Our mission is to develop secure payment solutions that are flexible, customized and evolving to meet merchants' changing needs and allow them to focus on their core business without worrying about managing cardholder data. TransactionVault®, our tokenization solution, and TransactionShield®, our point-to-point encryption solution, mitigate the risk of a data compromise while lowering the cost and effort of PCI compliance. For more information, please visit http://www.merchantlink.com.