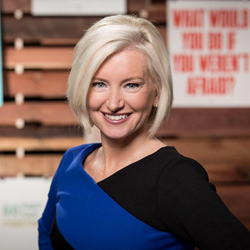 Emmitsburg, MD (PRWEB) May 04, 2016
Carolyn Everson will provide the commencement address to more than 360 graduates at Mount St. Mary's University's 208th Commencement this month. Everson is Vice President, Global Marketing Solutions at Facebook, where she leads the company's relationships with top marketers and agencies. She is on the Board of Directors of Hertz Global Holdings, Inc; serves on the boards of DonorsChoose, and the Mobile Marketing Association; and is Chairman of the Board of Directors of Effie Worldwide.
Among the graduates who will join the Mount alumni family on May 15 are 367 undergraduates and 66 graduate students in business, education, philosophy, and health administration. Acting President Karl Einolf will preside over the ceremony.
Previously, Everson was the corporate vice president of Microsoft's Global Advertising Sales and Trade Marketing Teams. She led the company's advertising business across Bing, MSN, Windows Live, Mobile, Faming, Atlas, and the Microsoft Media Network. She also spent seven years at MTV Networks.
Everson holds a bachelor's degree in liberal arts and communications from Villanova University, from which she graduated summa cum laude, and a master's degree in business administration from Harvard Business School, where she was a Baker Scholar. Carolyn is a member of the Villanova University Board of Trustees.
"The innovative thinking, dedication, and hard work that drives the team to make Facebook meaningful for billions of people is at the heart of everything we do at the Mount. Mrs. Everson's professional and personal experience, and her global perspective, will inspire our students as they take the next step to their future," said Acting President Karl Einolf.
Joining Everson on the dais will be Maryland Governor Larry Hogan who will offer opening remarks. The state's 62nd governor, Hogan is only the second Republican to be elected governor in the last 50 years and the first from Anne Arundel County in more than 100 years. He had a successful career in private industry before founding Change Maryland, the largest nonpartisan organization in state history, dedicated to bringing fiscal responsibility and common sense to Maryland state government.
Among Gov. Hogan's accomplishments in his first term is a reduction of tolls across the state, creation of more than 63,000 new jobs, investments in education and transportation, and enactment of the most important environmental initiative in a generation to protect the Chesapeake Bay. Hogan also oversaw the state's response to civil unrest in Baltimore, which included the declaration of a state of emergency in the city.
"We are honored Governor Hogan will open the Mount's commencement exercises," said Mount St. Mary's University Chair, Board of Trustees Mary Kane. "His unyielding and effective leadership in Maryland is commendable. His solid dedication, perseverance and resiliency serve as great examples for our graduates."
Governor Hogan will join Mrs. Everson and former MSMU President Thomas Powell in receiving Honorary Doctorates in Humane Letters.
Mount St. Mary's University's Class of 2016 includes medical students, Ph.D. candidates at top universities, software engineers, contract specialist, accountants, financial analysts, special education teachers and more. To learn about where a Mount St. Mary's education is taking graduates, click here.
Commencement exercises begin at 11 a.m. in the Mount's PNC Sports Complex – Athletic Recreation Convocation Center (ARCC)
Mount St. Mary's University is the nation's second-oldest Catholic university — with 17 Division I athletic teams, an award-winning student life program and more than 40 majors and minors to choose from. For more information please visit our homepage at http://www.msmary.edu.