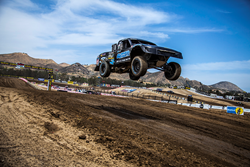 In both the Pro 2 and Pro 4 divisions, Adler's truck is equipped with a new, larger engine for competition.
Compton, CA (PRWEB) June 20, 2014
4 Wheel Parts president and off-road racer Greg Adler is racing in this weekend's Lucas Oil Off Road Racing Series event at Miller Motorsports Park in Tooele Valley, Utah. Celebrated off-road drivers are taking on the park's off-road short course in the middle rounds - 7 and 8 - of the series' 15-round 2014 championship. In both the Pro 2 and Pro 4 divisions, Adler's truck is equipped with a new, larger engine for competition.
The Riverside, California-based K&N Engineering recently joined Adler as a Pro 2 division sponsor. Their reputation for manufacturing racing filters and intake systems to complement engines with higher horsepower makes them a great fit for Team 4 Wheel Parts. Both of the 2-wheel-drive and 4-wheel-drive trucks Adler is racing are sporting higher horsepower.
Other notable entrants in the June 21-22 event include recent X Games silver medalist R.J. Anderson and female driver Corry Weller. Currently, Brian Deegan of Team 4 Wheel Parts leads the Pro 2 standings with 301 points and Greg is in 10th place with 202 points. Adler's faring better in the Pro 4 standings in 5th place with 254 points.
In March, Adler earned a second place finish at round two of the Pro 4 LOORRS season opener in Chandler, Arizona. In August, Adler plans to race at the LOORRS Glen Helen event. Last year in the Pro 4 Main short course race, he emerged victorious from a field of 11 trucks.
Helmed by company CEO & president Greg Adler, Team 4 Wheel Parts is comprised of employees, customers and well-known racers like Robby Gordon and Brian Deegan. The team sponsors Off-Road Adventures, a monthly digital magazine with content featuring Tech Tips, Product Reviews, Buyer's Guides and videos. Team 4 Wheel Parts champions many causes ranging from the annual King of the Hammers race to the ongoing effort to Save the Hammers to Truck & Jeep Fests throughout North America.
About 4 Wheel Parts: 4 Wheel Parts is a retailer and service provider specializing in aftermarket parts for off-road and 4x4 enthusiasts. With over 60 North American locations, the retailer supplements its retail centers with a robust mail-order and e-commerce distribution network. 4 Wheel Parts carries a large inventory of truck and Jeep parts, including mud flaps, exterior accessories, Jeep lift kits and more. The toll-free order number is 877-474-4821.