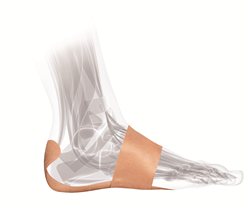 The PFTape™ is very low profile which allows for all-day use and can be worn with any shoe.
Prairie du Sac, Wisconsin (PRWEB) February 26, 2016
Mueller® Sports Medicine PFTape™ is a patented taping system that helps to relieve the pain and discomfort caused by Plantar Fasciitis.
The PFTape™ features two pre-cut and uniquely patterned pieces of self-adhering tape designed to directly control the stress of the arch and provide added stability to the foot.
"Plantar Fasciitis is an increasingly nagging ailment that many individuals from the avid runner to the daily walker are often plagued with. Looking at the current solutions available; many are often uncomfortable, too bulky, or simply ineffective." said, John Fritsch Director of Product Development at Mueller®.
The PFTape™ is very low profile (the thickness of tape) which allows for all-day use and can be worn with any shoe. It is applied in three easy steps and comes with a total of seven complete applications per package.
Look for Mueller® PFTape™ online, and at these fine retailers:
Walgreens | Rite Aid | Walmart | Amazon | Albertsons
About Mueller Sports Medicine
Mueller Sports Medicine was founded in 1959 by Curt Mueller. The company is a family-owned and operated international sports medicine company offering a complete line of patented braces, supports, tapes and taping supplies, as well as Quench® Gum. Mueller Sports Medicine continues to introduce new and innovative products around the world. For more information visit the Mueller Sports Medicine Blog.