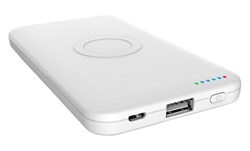 Mugen Power are no strangers to innovation but their latest product is genius.
Hong Kong (PRWEB) September 25, 2013
Mugen Power Batteries (http://mugen.co) the manufacturer of high-capacity batteries for handheld devices, today announces the new Mugenizer N11 QI Wireless Power Bank equipped with 4800mAh rechargeable battery.
Designed to provide maximum mobile freedom, Mugenizer N11 Portable Wireless Power Bank provides consumers, especially those who are often on the move, with unique combination of QI Wireless and USB charging capabilities.
As well as providing Wireless and USB recharging, the new product is also exceptionally reliable. Like other Mugen products, the Mugenizer N11 has undergone vigorous QA testing to ensure the highest quality and lowest return rate. The battery is also in compliance with the CCC, CE, FCC and ROHS requirements.
Mugenizer N11 has already gathered attention from tech bloggers:
"Mugen Power are no strangers to innovation but their latest product is genius. The Mugenizer N11 equips a USB battery pack with Qi wireless charger to provide charging on the go. As a user of both types of device on a regular basis, I think this is an excellent idea. It's also going to be a big win for people who hotdesk and can't be bothered with plugging and unplugging chargers each day," says Andrew from geeknewscentral.com.
"With the advent of Wireless Charging, users of devices like the Lumia 920, Nexus 4 and others can now just place the device on the surface of the charger to top it up. In a first of its kind (as far as we could tell), Mugen Power, a reputed third party extended battery maker, announced a Battery Pack that allows Wireless Charging," says Aatif Sumar from unleashthephones.com.
Pricing and Availability
Mugenizer N11 is available for US$69.95 direct from Mugen Power Batteries at http://mugen.co/mugenizer-n11-portable-wireless-charger.html.
About Mugen Power Batteries
Mugen Power is the worldwide leading brand of high performance batteries for portable electronic devices. Mugen Power means Performance and Quality and delivers a full spectrum of high quality products for PDAs, smartphones, digital cameras, camcorders, MP3 players, portable DVD players, notebooks, UMPCs and Personal Media Devices.
Mugen Power batteries have better performance (higher capacity) and reliability (longevity & safety) than other brands. The superior performance improves run timeand superior quality results in longer battery life and better protection of the powered device.
All Mugen Power products also undergo vigorous QA procedure, resulting in Mugen Power achieving the lowest return rate in the market. All Mugen Power products are CE and RoHS Certified.
NOTE FOR EDITORS: Mugenizer N11 is available on request to editors of computer magazines and bloggers who will to write a review of the product.