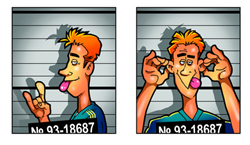 MugShots.us.org will publish the weekly mugshot of the week winner on their blog.
San Diego, CA (PRWEB) April 28, 2014
MugShots.us.org is going to hold a weekly contest for the mugshot of the week in order to more fully engage with consumers, the company announced yesterday.
"We know that not everyone uses our service to perform background checks on other people," a MugShots.us.org spokesman said. "Many people do so because they find mugshots interesting. And there is nothing wrong with that. For those consumers, we think having this kind of contest could be very fun and give them a way to interact with our company and other consumers."
MugShots.us.org will publish the weekly mugshot of the week winner on their blog, he said.
"There are a lot of reasons someone might like a particular mugshot," he said. "It could be of a favorite celebrity. Or the person could have a funny expression on their face, or bizarre tattoos. No matter what, we will consider any nomination we get for the weekly contest."
The person who submits the winning mugshot will get credit on the company blog, he said.
"This contest isn't about money," he said. "It's about having a little bit of fun. We are a serious company, but we don't have to be super serious all the time. Sometimes in business it's fine to be a little bit silly."
MugShots.us.org did caution that the contest is not to be used to harass anyone.
"Just because you think a mugshot of your drunk uncle is funny doesn't mean it really is," he noted.
About MugShots.us.org:
MugShots.us.org is the top online resource for accessing criminal records on a state, local or federal level in the United States. With over thousands of records to search through, Mugshots.us.org makes finding jail, prison, parole, probation and arrest records that has been filed with the court system simple and efficient. Visit MugShots.us.org today to chat with a live representative, call 1-855-703-0271, or email manager(at)Mugshots(dot)us(dot)org with any questions or concerns.