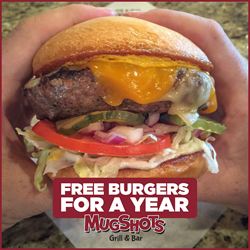 What better way to show that than give away a year worth of free burgers!
Hoover, AL (PRWEB) February 03, 2016
Grand Opening:
Mugshots Grill & Bar will celebrate the grand opening of its Hoover, AL restaurant (110 Inverness Plaza) on Tuesday, March 1, 2016 at 11am.
Complimentary Burgers For A Year:
One lucky winner chosen randomly from our contest will receive complimentary burgers for a year. That is one Mugshots Speciality Burger per week for 52 weeks. That's just over a $500 value. Visit the Mugshots Grill & Bar - Hoover, AL Facebook page for the details of the Like & Share contest. The winner will be announced at the Grand Opening.
"Mugshots Hoover will be the 7th Mugshots location in Alabama and 3rd in Greater Birmingham," said Sam McAlister, Marketing Director of Ain't Life Grand Investments. "At Mugshots it's all about 'Havin' A Good Time' so what better way to show that than give away a year worth of free burgers! Our customers have been very supportive of our businesses so we want to have some fun by giving back through social media."
The 4,500-square-foot grill & bar will feature full service, an outdoor patio and full bar serving local canned and draft beers, wine, craft bourbons, and signature drinks. Mugshots in Hoover will hire approximately 100 local employees and will be able to seat approximately 170 patrons. Visit Mugshots Careers Page to fill out an online application and set up an interview.
About Mugshots Grill & Bar:
Mugshots Grill & Bar is one of the South's favorite restaurant concepts serving up great food in a fun, casual, and family-friendly atmosphere. We are dedicated to giving back to the communities in which we operate with our nonprofit organization "Making Life Grand." We pride ourself on our "Havin' A Good Time" culture and now have 15 locations in Louisiana, Mississippi, and Alabama.