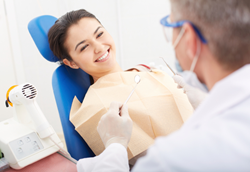 Mukilteo, WA (PRWEB) July 23, 2014
What's the worst thing that could happen if individuals and families do not have their teeth professionally cleaned on a regular basis?
Mukilteo Family Dentistry answers this pressing question in their recent article directed to individuals and families that are questioning the need for regular professional teeth cleanings.
While brushing every day is important in maintaining healthy teeth, Dr. Stephen Grindall reminds families that professional teeth cleanings, preferably every six months, are just as important.
Schedule a teeth cleaning with Dr. Grindall now: http://mukilteofamilydentistry.com/
"Only professional cleanings are able to remove all of the soft plaque and tartar buildup that can damage teeth and gums, and only professional eyes are trained to spot possible problems, such as cavities, before they become serious," says Mukilteo Family Dentistry.
Common problems that occur without proper professional cleanings are tooth diseases, such as cavities, degeneration of the nerve or tooth pulp, gum disease, halitosis, and decreased immune response.
The process of professional tooth cleaning, which includes scraping off the tartar and plaque buildup and polishing the tooth, will ensure that the teeth and gums stay healthy.
"Keeping your teeth and gums healthy is very important. Together, you and your dentist can ensure that you have a bright beautiful smile for years to come!" says Mukilteo Family Dentistry.
About Mukilteo Family Dentistry
Mukilteo Family Dentistry is a dental office located in the beautiful downtown Mukilteo area. Dr. Stephen Grindall and his staff pride themselves on providing excellent, gentle, professional dental services to their patients. Their long list of happy clients is a testimony to their relationship-oriented approach and relaxed office atmosphere. Call or fill out their online patient form to make an appointment today.
Mukilteo Family Dentistry
833 2nd Street, Suite A
Mukilteo, WA 98275
425.355.8866