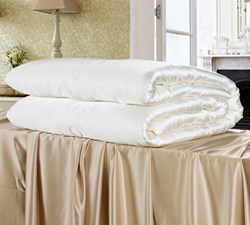 Your harvest plus our promotion equals comfy silk sheets on your bed.
Freeport, NY (PRWEB) December 11, 2013
Lilysilk has never announced promotions on its best-selling mulberry silk comforters. According to Mike Lee, CEO of the company, they have launched 10% off on their comforter collections since December 10th.
When asked in regard to comforter promotion, Mike Lee replies, "Though we have never announced discounts for our best-selling comforters, we try our best to give 10% off this time for Christmas. Because it approaches Christmas, and we are in proud and joy to extend our thanks to new and returning customers for their love and support."
This company never makes their customers disappointed. They only use the best quality mulberry silk to weave into silk sheets, comforters, pillows, and other related accessories. Their aim is to satisfy all customers' needs, by offering speedy and free delivery worldwide, instant online help, and unbeatable return policy which allows customers to return goods in their original package within 45 days only if the goods are not washed or used.
As is well known that silk is the best fabric in the current market, there are no reasons doubting its high prices. While in order to allow most of people to enjoy the ultimate comfort brought by 100% pure and natural silk bedding, Lilysilk announces big promotions for the last month of this year. "Fall is a season of harvest, while winter season is the time to enjoy the harvest. Your harvest plus our promotion equals comfy silk sheets on your bed." Mike Lee says.
In addition, Lilysilk is a China-based manufacturer and retailer of silk bedding for years. They are popular among ladies and gentlemen for refined craftsmanship, delicate designs, exquisite patterns, and gorgeous looks. Those features are the reasons to choose Lilysilk Bedding Store.
More discounts and savings about Lilysilk Christmas sale can be accessed at: http://www.lilysilk.com/.