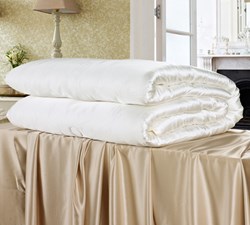 If you want to reward yourself in this harvest season, sleeping with silk comforters are the best choices.
Lewisville, TX (PRWEB) November 22, 2013
The shopping season has already been in the air. With the joy of harvest, people are rewarding themselves by sleeping with silk filled comforters. That is the reason why silk comforters are becoming the best-selling products in the current market. Lilysilk.com, as a reliable and distinguished online bedding store, has launched a big promotion on its mulberry-silk filled comforters to express gratitude to new and returning customers worldwide.
The China-based company aims to bring top-quality silk products, including sheet sets, comforters, blankets, pillows and nightwear, to people at home and abroad. This time, they launched a promotion, 20% off, on its 22mm and 25mm duvet covers and comforters. All online clients can enjoy these discounts before and on Thanksgiving Day.
Lilysilk promises that they are only using the Grade-A mulberry silk to make into bedding sets and comforters. Refined fabrics, delicate designs, gorgeous looks, are big features of Lilysilk products which are popular among housewives.
"If you want to reward yourself in this harvest season, sleeping with silk comforters are the best choices. Our comforters are ideally handmade from 100% natural silk, which warm your heart and body all night. What's more, customers could feel assured to purchase at our store because we offer 45-day risk-free guarantee of returning products only if they are not washed or used and in the original packages." says Mike Lee, CEO of Lilysilk.
In addition, this company also offers free swatches for customers. One customers could choose at most 5 colors of their pure silk samples.
About Lilysilk
Lilysilk.com is a leading and reliable silk bedding store, which is offering high-quality silk sheets (including duvet covers, fitted sheets, flat sheets, and pillowcases), silk-filled comforters, blankets and coverlets, and other related accessories. All these products are handmade from 100 % pure silk which is beneficial for skin and hair. Perfect service, competitive prices, fast shipping, are reasons to choose Lilysilk Bedding Store.
More information about Lilysilk can be accessed at http://www.lilysilk.com/.