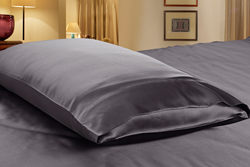 So sleep with our 100% pure mulberry silk pillowcases, and get ruddy complexion and glossy hair.
Houston, TX (PRWEB) October 15, 2013
Lilysilk is often asked by customers if whether mulberry silk pillowcases are beneficial for skin and hair. Last week, Lilysilk, as a silk manufacturer with many years of purchasing experience, confirmed that silk pillowcases are helpful for hair. And they suggested customers to sleep on the 100% mulberry silk pillowcases at night.
There is a common phenomenon that someone goes to sleep with normal hair and wakes up with a rat's nest on the head. The silk pillowcase is a simple and easy solution for this problem. Lilysilk.com is offering the best silk pillowcases for those who want to protect skin and hair for a long time. Silk is soft and smooth, and allows the hair to glide over the pillow without getting caught in the fibers. This is especially true for people who have brittle hair.
"We hope our customers have smooth and shiny hair everyday. Some customers have even written to us that silk pillowcases are really beneficial for their hair. 18 kinds of amino acids make silk pillowcases hold organic and hypoallergenic features. So sleep with our 100% pure mulberry silk pillowcases, and get ruddy complexion and glossy hair," said Mike Lee, the manager of Lilysilk.
In addition, silk pillowcases have other advantages. They promote sleep quality, and slow down the sign of aging. There is a documented research to show that sleeping on silk pillowcases prevents aging. Silk contains natural proteins and 18 essential amino acids, which also help to counter the effects of aging.
About lilysilk
Lilysilk is a professional silk bedding manufacturer and retailer who are offering the best quality bedding products at competitive prices. Much more tips on how to care for health and beauty are also provided by Lilysilk to its customers.
For more information, please visit: http://www.lilysilk.com.