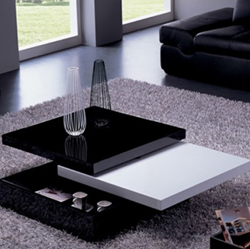 More often than not, coffee tables are nothing more than a pretty little waste of space, but they certainly don't have to be.
(PRWEB) May 14, 2015
HomeThangs.com – the Online Home Improvement Store has made their goal to deliver the right product to the consumer. With that in mind, shopping and home design tips, as well as special product selections are being introduced.
Ordinary coffee tables are more ornamental than functional – they're meant to occupy the blank space in the center of a living room, but are rarely designed to do anything more than that. The best ones, though, are the exception, with unique integrated functionality that make them earn the space they occupy. HomeThangs.com has introduced a quick guide to these multi-function coffee tables, and why they're worth having.
By design, coffee tables are low and unobtrusive. Any taller and they'd block the view of the television, or impede conversation, and any larger and they'd restrict movement through the living room. But that very fact means that most coffee tables aren't good for anything more than maybe laying out a few remotes, magazines, or books. Lift top coffee tables work around this problem by making it possible to pull the top of the coffee table up and toward the sofa, like a makeshift TV tray. Not only does this effectively turn the coffee table into a functional casual dining table that's completely invisible when not in use, it also cuts down on the amount of furniture in the room, cluttering the space. Multi-function coffee tables also frequently have hidden storage and tops that can expand and branch out when more surface space is needed, which makes them ideal for smaller living rooms.
For a more in depth look at some of the features available on popular multi function coffee tables, check out the full article here.
HomeThangs.com is not only a home improvement superstore, it also provides expert design tips and a comprehensive shopping guide, taking the ideas from professional interior designers, and offering tips to the consumers on how to pick the products to best suit their needs.