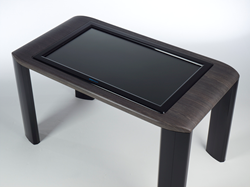 It's important to bring a hands-on multi-touch experience to businesses in India to show the power of interactive displays, Suda Sampath, President & CEO SensyTouch.
Irvine, CA (PRWEB) April 15, 2014
SensyTouch, a leader in multi-touch interactive systems, is taking its product on the road April 15 to April 19 for its first "road show" in India, where it will showcase its flagship 42" multi-touch table along with an array of powerful applications for use in a variety of industries from entertainment to shopping malls and education to auto showrooms.
The show, created by SensyTouch as part of its product launch, will be held at Radisson Blu Marina Hotel Connaught Place, New Delhi.
"In addition to our showroom presence Bangalore, India's "Silicon Valley", this road show event will showcase some of what is best about SensyTouch products, which includes one of our most popular products—the 42" multi-touch table," said Suda Sampath, president and CEO of SensyTouch.
Among SensyTouch sought-after features are its 48-simultaneous zero-pressure touches, its slim design and its software applications for a limitless number of industries. SensyTouch has been used in automotive showrooms, museums, retail, entertainment industry/television, pharmaceutical, airports and more.
SensyTouch develops, engineers and markets a premium range of multi-touch solutions, featuring slender, elegant design, responsive, fast interaction for a broad range of industries. The company is headquartered in Irvine with facilities in Romania as well.
https://www.facebook.com/sensytouch
http://www.youtube.com/user/SENSYTOUCH/videos
To schedule your visit and learn more about SensyTouch multi-touch solutions, please call (+91) 93419 64424 or email info(at)sensytouch(dot)com.