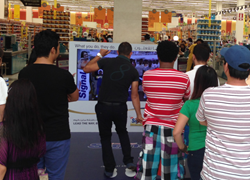 SensyTouch's goal is to provide the best solutions for a variety of needs from marketing to entertainment and more. - Suda Sampath
Irvine, CA (PRWEB) September 26, 2013
SensyTouch, a leader in the multi-touch interactive systems, helped "bring game" to a Signal toothpaste marketing exhibit Deira City Centre, Dubai's first large-scale, mixed-use shopping destination. Signal, a toothpaste brand of the global company Unilever, set up a temporary exhibit in the UAE mall to provide an interactive experience on the importance of tooth-brushing. The message, Lead the Way, Brush Twice A Day, was delivered in a fun way through SensyTouch's involvement in the game app development.
"SensyTouch provides solutions to a variety of industries," said Suda Sampath, President and CEO of SensyTouch. "Our engineers custom design applications to fit the needs of any project."
The open, interactive platform allowed mall visitors to interact using KINECT sensor attached to a large LCD screen, which featured a Kinect application developed by SensyTouch. The mall visitor imitated the animated character's moves and gained points when their moves matched that of the animated character.
SensyTouch develops, engineers and markets a premium range of multi-touch solutions, featuring slender, elegant design, responsive, fast interaction for a broad range of industries. SensyTouch is headquartered in Irvine, Calif.
https://www.facebook.com/sensytouch
http://www.youtube.com/user/SENSYTOUCH/videos
To learn more about SensyTouch multi-touch hardware and multi-touch software, please call 1 (800) 385-5814 or email info(at)sensytouch(dot)com.