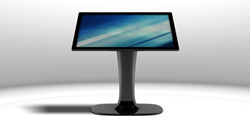 The partnership will be integral to strengthening the global presence of SensyTouch custom solutions.- Suda Sampath, CEO and President, SensyTouch.
Irvine, CA (PRWEB) April 30, 2014
SensyTouch, known for its custom engineering and design in multi-touch interactive applications, has signed an agreement with In Media for Communications, a S.A.E. company—a group of agencies dedicated to full-fledged creative, digital, media and public relations services. The firm was formed as a subsidiary for Promovision Media Group ltd UK.
According to SensyTouch President and CEO Suda Sampath, "With our years of success in the U.S., Europe, United Arab Emirates, Kuwait and such other middle east countries, makes Egypt as a natural extension of our markets."
The multi-touch solutions offered by SensyTouch include use in education, museums, hotels, retail, television, showroom, events and more.
Adel Ellithy, CEO of In Media for Communications, commented, "We are excited about our new partnership with SensyTouch and to be part of their global expansion bringing new performance and uniqueness to the Egyptian market."
SensyTouch develops, engineers and markets a premium range of multi-touch solutions, featuring slender, elegant design, responsive, fast interaction for a broad range of industries. The company is headquartered in Irvine, Calif. with facilities in Romania and a showroom in Bangalore, India.
In Media for Communications is a rapidly growing company known for innovation and excellence in delivering cutting-edge, creative 360-media services for all types of business to help develop strategies for a competitive edge. It also established subsidiaries: In Production, In Events & In Motion.
https://www.facebook.com/sensytouch
http://www.youtube.com/user/SENSYTOUCH/videos
To learn more about SensyTouch multi-touch table, multi-touch kiosk, multi-touch wall and multi-touch software, please call 1 (800) 385-5814 or email info(at)sensytouch(dot)com.