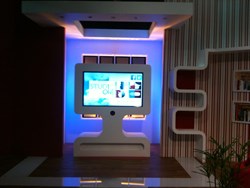 Multi-touch products can provide solutions through hardware and software to the overall entertainment industry—and beyond, said Suda Sampath, President and CEO of SensyTouch.
Irvine, CA (PRWEB) September 10, 2013
SensyTouch, a leader in the multi-touch interactive systems, has developed a new app tailored for the entertainment needs of Dubai One TV, 24-hour satellite television network owned by Dubai Media Incorporated, which caters to the entertainment needs of English speaking Arabs and expatriates in the region. Dubai One will use the SensyTouch made-to-order application on the SensyTouch 55" multi-touch system supporting 32 simultaneous touches.
The versatile multi-touch technology solution for Dubai One will feature an extensive menu that will allow live links to social media such as Twitter, engaging games, various celebrity-related links, nutrition-related engagement and much more.
http://vod.dmi.ae/media/235486/Studio_One_season_4_08_09_2013
"SensyTouch features the industry's sleekest all-in-one multi-touch system," said Suda Sampath, president and CEO of SensyTouch. "This custom- engineered application proves again that SensyTouch hones in on the needs of a project to provide a powerful tool for the best customer experience."
Sampath notes that SensyTouch solutions fit in with Dubai Media Incorporated's focus on innovation and quality. The station, rebranded as Dubai One in 2004, broadcasts to Middle East, Europe and North Africa. In addition to syndicated programming from the United States, United Kingdom and Australia, it broadcasts a variety of in-house productions.
SensyTouch has created apps and solutions for other entertainment industry clientele including The X Factor (Dubai) and The X Factor (Romania). SensyTouch first introduced its multi-touch systems to the popular television talent show in Romania, where the system helped the judges make quick and objective decisions during the pre-selection process of candidates.
SensyTouch multi-touch solutions are in use by museums, the entertainment industry/television, pharmaceuticals, auto showrooms, shopping malls, airports, education/universities, sports/football (soccer) training and the hospitality industry.
SensyTouch develops, engineers and markets a premium range of multi-touch solutions, featuring slender, elegant design, responsive, fast interaction for a broad range of industries. SensyTouch is headquartered in Irvine, Calif.
To learn more about SensyTouch multi-touch hardware and multi-touch software, please call 1 (800) 385-5814 or email info(at)sensytouch(dot)com.