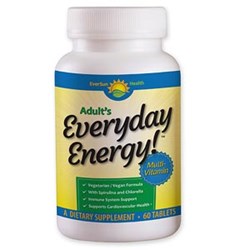 I've had them less than a month but can already feel a positive difference in my energy levels. I think it's due to the green super foods in this formula.
(PRWEB) January 15, 2014
With colds and flu season worsening, many are choosing to strengthen the ability of their bodies to fight off infection rather than rely on shots or drugs to save them. Knowing that vitamins and minerals are the crucial ingredients to a healthy body and strong immune system, EverSun Health is teaming with Amazon to offer their popular dietary supplement called Adult's Everyday Energy Multivitamin.
This advanced multivitamin has been scientifically formulated and manufactured in the United States using premium quality ingredients in a current good manufacturing practice (cGMP) facility. Unlike many alternative brands, Adults' Everyday Energy Multivitamin is based on GMO free, organic, non-irradiated ingredients wherever possible. This premier multivitamin is safe and effective, ensuring that the body receives the optimal support it needs for good health.
Maintaining a well-balanced diet rich in essential vitamins and minerals is challenging for most people. Even those individuals that strive to eat healthy fruits and vegetables can still struggle to obtain adequate nutritional value. By routinely taking one Adults' Everyday Energy Multivitamin each day, the body will be invigorated with access to all the vital nutrients needed to support a healthy body. Packed full of antioxidants, this supplement will also enhance the immune system and support a youthful complexion.
Consumer response on Amazon to Adults' Everyday Energy Multivitamin is highly complementary. EverSun Health customer Chris is very happy with the results after taking this multivitamin: "I've had them less than a month but can already feel a positive difference in my energy levels. I think it's due to the green super foods in this formula."
Chris recognizes that this is a superior formula: "I like the fact that I know when taking these that they are created at a higher standard than most so they're only including quality ingredients and no fillers like many other brands." By choosing to use only the best ingredients, EverSun Health's customers receive the most potency from the minerals and vitamins included and avoid paying for fillers that don't benefit.
Another great benefit of this supplement is that it supplies the body with multivitamins without iron. Many people have a sensitivity to iron and are unable to process it properly and this can lead to a toxic accumulation within the body. Other people sensitive to iron experience an upset stomach. Customers are grateful not to have to deal with theses issues with this formula.
EverSun Health is delighted with the quality of Adults' Everyday Energy Multivitamin and are so confident in the supplement's ability to deliver great health benefits that they offer a money back guarantee. With 60 capsules in each bottle, two months supply is a great value for the money. For more information about this superior multivitamin supplement and to take advantage of the free shipping and fantastic customer support, search Everyday Energy Multivitamin on Amazon or visit http://www.EverSunHealth.com.