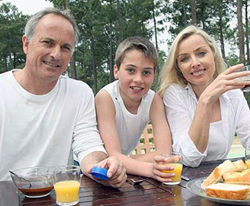 "An intergenerational home is not just one where multiple generations reside. It is one whereindividuals of all ages are an integral and valued partof the setting." ~ Generations United
Minneapolis, Minnesota (PRWEB) September 17, 2013
Over one in six are now multigenerational households, as families find living together on one property solves a lot of housing challenges and increases family bonds. Adding on for multigenerational living is increasing and working great for many households who prefer living together over the costs of each owning their own home, according to the National Association of Home Builders (NAHB).
"Family members living together are finding it can be a positive experience for everyone involved. It is a wonderful opportunity for instilling positive family values into young children. Adding on to create a multigenerational home grants children the opportunity to live with grandparents and great grandparents; it can be a tremendous gift for both younger and older generations. These gains from multigenerational living far surpass the living expenses saved," states Jenna Thuening, owner of Home Destination.
With tight Twin Cities housing inventory levels and the cost of renting a home on the rise, multigenerational living may be the answer. The current Minneapolis available inventory holds 15,773 properties, 9.9% lower than in August 2012. Due to a strong season by Twin Cities home builders that is 21.2% higher than in January's inventory levels of this year. The Twin Cities saw an overall median sales price increase of 16.9% year-over-year, reaching $208,000, according to the Minneapolis Association of Area Realtors (MAAR).
Why Housing Analysts Anticipate Higher Numbers In Multigenerational Living:
1. Children Return To Multigenerational Living While Paying Of School Debt - College children are finding that moving in back home with their parents is their best financially option. Pressed by a tougher time finding gainful employment after graduating from college, and staggering student loan debts to pay off, simply moving back home is more often the choice over renting.
2. Aging Seniors Opting To Live With Family Members - The trend in the last few years has been an increase in aging parents deciding they would rather live with their children than move into assisted living. Housing trends anticipated that over the next 40 years the 65+ population will reach 92 million; with the voluminous increase in senior population numbers, the number of multigenerational homes is sure to keep growing.
3. Uptick in Immigrant Households - A growing immigrant population that prefers communal living over single-family homes. Moving to a new country or state may be change enough. Multigenerational housing may well be the established norm in the home they grew up in.
"We definitely see this as a segment of the market that's going to be there for a while," says Rodney Harrell, a senior strategic policy adviser at AARP. Home builders may not necessarily see multigenerational living quarters as their main focus for the future; however, there housing data supports anticipating an increasing demand for this type of housing. Requests for home renovations and adding on for multigenerational living needs are on the rise. The rise in multigenerational living is more than a result of the economic downturn we are climbing out of; it also seems to be that more families are exploring new options and are making better home buying decisions for flexible planning.
Home design trends are adapting to the high demand for multigenerational homes. Destined to have a tremendous impact on home builders and home sales in the coming years, families living under one roof are a social and economic trend that is change the way people live. Multigenerational homes are defined as "houses that include a completely self-contained, apartment with its own entrance and garage", according to a July 16 article in The Examiner.
Home Destination is an experienced Twin Cities real estate professional with RE/MAX Results; moving the Minneapolis / St Paul housing market! Families who want a multigenerational home perfect for extended family members will benefit from Home Destination's expertise on residential family homes sales. Twin Cities home buyers seeking to buy a metro home can reach Jenna Thuening at 612-396-7832.