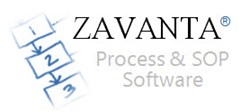 With Zavanta software, SOP best practices are built in. You can easily incorporate any type of supporting multimedia—images, screen captures, illustrations, videos, audio podcasts, flow charts--whatever best serves the information needs of your employees.
St. Louis, MO (PRWEB) July 31, 2013
We've all heard the phrase "A picture's worth a thousand words." But is it true and if so why? Multiple research studies in memory and cognition are showing something more complicated. Words and pictures together are more valuable than either one alone—multimedia works better especially when it comes to understanding and remembering standard operating procedures. In a new Tip Sheet for Zavanta Software users available in August, COMPROSE experts summarize some interesting insights on the question of multimedia and Standard Operating Procedures.
Why does multimedia work better than just words or pictures alone? According to dual-coding theory, there are two ways to encode information: visual and verbal. Pictures and words. And people use different parts of the brain to encode them. But it turns out humans can retrieve information much faster and more easily when they encode it both ways. That's the trick memory champions use to memorize and recall massive lists of information. As described in a Discover Magazine article, "How to Win the World Memory Championship". To aid their memories, contestants routinely store visual and spatial information at the same time they store words and names.
How does this apply to standard operating procedures? Researchers in memory, cognition, operations management and other disciplines are all interested in how people follow and understand instructions as well as how best to communicate procedure information. Questions about the effect of multimedia on learning and remembering procedures are of particular interest. While the topic is still being investigated, the majority of research so far shows multimedia (text and pictures together) produced the best results.
One study by T. Brunye, et al. published in Applied Cognitive Psychology involved controlled laboratory studies comparing the use of text only, picture only, and multimedia sets of instructions and found that "Participants recalled more information, and made faster and more accurate order verification judgments following multimedia relative to both picture-only and text-only formats."
What about video? Although some studies found no significant difference between static pictures and video for following procedures, others indicate measurable advantages to video for specific types of tasks. Being able to see a task being performed has obvious benefits for learning, but in other tasks clear step-by-step text instructions with static pictures got faster, less error prone performance. A study published in the Proceedings of The Human Factors and Ergonomics Society found "When the task is complex, sequential, and spatial in nature, both younger and older adults benefit from the addition of video to audio instructions." More research will shed more light on this topic
Here are a few of the tips offered by COMPROSE experts:
1. Always start by giving simple text instructions using Action Verbs and number each step to show a clear sequence.
2. Use pictures and videos to supplement and support the words.
3. Add pictures and illustrations to show objects and spatial relationships and provide clarity but don't forget to label and explain what the pictures illustrate.
4. Add videos and audio explanations to show complex actions and aid learning but remember people read much faster than they can watch so offer text explanations as well and keep video segments short and modular so they are easy to follow.
COMPROSE developers continually apply new research insights such as these into the design and implementation of Zavanta® Process and SOP software. Zavanta's research-based structure helps business users logically "think through" the processes and procedures in their organization to get the best results. Built-in controls ensure content quality and keep authors from just "doing their own thing".
According to COMPROSE R&D Manager, " Zavanta is built by SOP experts so our customers don't have to be one. Zavanta's fill-in-the-blanks wizard helps anyone "think through" any process, SOP, or policy, prompting for all the information, in the right order, ensuring nothing is left out. You can easily incorporate any type of supporting multimedia—images, screen captures, illustrations, videos, audio podcasts, flow charts—whatever best serves the information needs of your employees. With Zavanta software, SOP best practices are built in."
Since 1987 COMPROSE, Inc. has worked with hundreds of organizations to streamline and standardize their operations. COMPROSE is a single-point resource for any organization that wants to bring more structure to the people side of their business. Hundreds of organizations already use COMPROSE's Zavanta software to standardize operating procedures and best practices. The COMPROSE website highlights client success stories including improved performance, faster ramp-up, reduced training costs, and streamlined regulatory compliance.
COMPROSE Zavanta® software breaks through the limitations of conventional approaches with a faster, better way to capture, maintain, and deliver clear standard operating procedures, policies, training manuals and work instructions that employees actually use and understand--accessible 24/7 from their browsers.
COMPROSE also provides informational whitepapers and authors a series of blogs on operations improvement and training including corporate training best practices, and Policy and Procedure Best Practices focused on getting the highest return on investment.