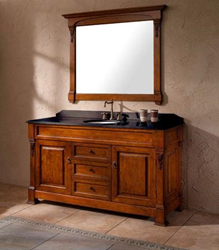 Shopping bathroom vanity brands that carry similar vanities in multiple sizes and configurations dramatically simplifies the process of decorating and coordinating two bathrooms at the same time.
(PRWEB) November 16, 2013
HomeThangs.com – the Online Home Improvement Store has made their goal to deliver the right product to the consumer. With that in mind, shopping and home design tips, as well as special product selections are being introduced.
Coordinating a remodel across multiple bathrooms is no small job, especially if the bathrooms are different sizes or shapes. But choosing the right bathroom vanity brand can make a big difference. HomeThangs.com has introduced a guide to six bathroom vanity brands that specialize in large bathroom vanity collections with multiple vanities in different sizes, making it just that much simpler to coordinate and furnish multiple bathrooms at once.
A great example of this comes from the Avanity brand. Avanity offers traditional, transitional, and contemporary vanities, and each of their design collection is available in each of the standard widths, from a petite 24″ all the way up to a hefty 72″ inch double vanity. Each size retains the same basic appearance – finish, woodwork, and overall design – but is tailored to offer the best storage for a vanity of that size. That way, the vanity won't just fit the dimensional requirements of various different bathrooms, but will actually maximize efficiency for that space.
Sagehill Designs is another bathroom vanity brand that does this quite well. Though their sizes tend to be a little more limited than Avanity (usually ranging from 24″ to 48″ rather than a full 72″), they have a greater selection of designs to choose from, and nearly all their collections include matching mirrors and storage cabinets. Plus, for really large bathrooms, Sagehill offers a few of their most popular designs in semi-custom modular sets, which can be assembled into a larger vanity for a space anywhere from 42″ to 120″.
Empire is another bathroom vanity brand that focuses more on the smaller end of the spectrum, with vanities generally ranging from 24″ and under up to about 48″. But what's great about Empire is that their vanity collections aren't just flexible in terms of size. Many of their most popular models are available in multiple finishes and often with multiple different storage configurations or detachable legs, making it easy to choose one that will work best for a particular bathroom.
James Martin Furniture offers one of the most diverse selections of all these bathroom vanity brands, with bathroom vanities that range from highly modern to ornate antiques, with a beautiful array of different wood finishes. While not every one of their vanities is part of a large, flexible collection, many of them are, with offerings ranging in the standard widths from 24″ up to about 72″. Their most popular designs are often available in multiple different finishes, and several of these collections also include storage cabinets to round out the bathroom.
Silkroad Exclusive is one bathroom vanity brand that's definitely worth a look for those planning on remodeling a larger bathroom. With bathroom vanities that range from 12″ all the way up to 95″ wide, there's an amazing amount of flexibility to find one is a size that suits a particular space. Plus, many of their vanities, both antique and modern, are part of modular collections. That means their largest vanities are actually made up of two single vanities and a third storage piece that are installed together to create a single unit. This makes them not only easier to install, but also means that smaller vanities in the same collection may actually be the exact same vanity.
Legion Furniture, which easily boasts the most extensive selection of any of the bathroom vanity brands on this list, is less explicitly known for the flexible sizes of their collections. That said, many of their designs come in multiple sizes, sometimes just one or two, or sometimes four or more. As well, not all of their vanities conform to the six inch to one foot intervals that are standard for the industry; some offer several options on the smaller end of the spectrum, while other vanities come only in big and bigger. With such an extensive collection, it's easy to match vanities that are close but not quite identical, meaning it's possible to reap the benefits of buying from one brand (like cheaper shipping costs) even without necessarily buying entirely from a single collection.
To find out more about these brands, check out the full article here.
HomeThangs.com is not only a home improvement superstore, it also provides expert design tips and a comprehensive shopping guide, taking the ideas from professional interior designers, and offering tips to the consumers on how to pick the products to best suit their needs.