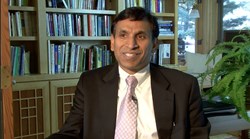 Analyzing the big data made available today by the confluence of powerful servers, ubiquitous networks, and massive databases has quickly become a crucial technical skill...a big advantage for our students headed for IT/management jobs. - Anil Maheshwari
Fairfield, Iowa (PRWEB) December 11, 2013
In today's data-driven economy there is an urgent need for more sophisticated software programs to mine and better utilize data coming in over multiple platforms from diverse sectors of the economy, not only for business, but also for higher education.
To help Maharishi University of Management students build essential skills in analytics technology, the school recently joined the IBM Academic Initiative, which offers participating schools no-charge access to IBM software, discounted hardware, course materials, training and curriculum development—over 6,000 universities and 30,000 faculty members worldwide are members of the program.
Students from the university's management and computer science departments used analytics course materials supplied by the IBM Academic Initiative in a course titled "Business Intelligence and Data Mining," taught by MUM faculty member Dr. Anil Maheshwari.
Dr. Maheshwari said, "Analyzing the 'big data' made available today by the confluence of powerful servers, ubiquitous networks, and massive databases has quickly become a crucial technical skill."
"We are using industrial strength tools such as IBM SPSS Modeler," he said, "along with open-source tools, to provide our students a strong data-mining toolkit to engage with Big Data, and generate interesting insights and new knowledge."
Students will learn more than just how to operate the software, but how to use it effectively as a business tool. Dr. Maheshwari said, "Our students will have end-to-end skills to know, what is the business problem, what is the data being generated, how do I mine the data, how do I generate intelligence out of it and feed it back to the business so the business can actually benefit from it. That whole cycle is what we're training, not just the tool within itself."
Industry analysts have identified predictive analytics as the fastest growing software category for company spending. They also expect that the need for staff with these capabilities will outpace available skill sets in many organizations. This will mean that expertise in data mining and predictive analytics will be highly sought after for years to come.
MUM PhD students will use analytics software in their research and to teach statistics. And it will be available for the statistical analysis facet of the empirical research being conducted on campus.
As part of the IBM initiative, MUM faculty and students have also received valuable training from IBM consultants/trainers to help strengthen their skills with the IBM SPSS Modeler system.
"Having this kind of software suite on one's resume can be a big advantage for our students headed for IT/management jobs," said Dr. Maheshwari.
Founded in 1971, Maharishi University of Management (MUM) offers Consciousness-Based℠ Education, a traditional academic curriculum enhanced with self-development programs like the Transcendental Meditation® technique. Students are encouraged to follow a more sustainable routine of study, socializing and rest without the typical college burnout. All aspects of campus life nourish the body and mind, including organic vegetarian meals served fresh daily. Located in Fairfield, Iowa, MUM is accredited by The Higher Learning Commission and offers bachelor's, master's, and doctoral degrees in the arts, sciences, humanities, and business. Visitors Weekends are held throughout the year. For more information, call the Admissions Office at 800-369-6480 or visit http://www.mum.edu.