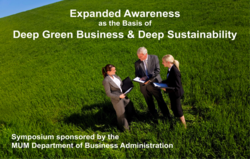 There must be a transformation of consciousness in order to truly embed sustainability in our companies and our society.
Fairfield, Iowa (PRWEB) July 04, 2013
An innovative Deep Green Business Symposium exploring the relationship of consciousness and sustainability will take place this Friday, July 5 and Saturday, July 6, at Maharishi University of Management in the Sustainable Living Center, Rm. 12. Titled "Expanded Awareness as the Basis of Deep Green Business and Deep Sustainability," the Symposium highlights the need for expanded awareness within individuals and communities in order to truly embed sustainability in their companies and in our world. Speakers will address how expanded awareness is being applied in business, technology, and in leadership.
Sponsored by MUM's Department of Business Administration, morning sessions will run from 10: 00 a.m. to 12:30 p.m., and afternoon sessions from 1:30 p.m. to 4:00 pm. CT. All sessions are free and open to the public. To register, please email mgt(at)mum(dot)edu.
The event will also be live streamed on the web at http://www.mum.edu/mumtv. More information is available at http://www.mum.edu/mumtv_greenbusiness, including Speaker Bios.
For real sustainability to take place in business there has to be a change in consciousness. How can this transformation take place and what are the mechanics to implement such change? How have businesses and communities facilitated such transformation and what are the results? Join us for a discussion of these and other questions as we explore the role of consciousness in creating sustainable business and a sustainable world. This symposium will address the possibilities for and results of such collaborative development.
Schedule of Activities:
Friday morning: Expanded Awareness for Deep Green Business
Vicki Alexander Herriott, J.D., LL.M. "What is Deep Green Business?"
Hazel Henderson, Founder of Ethical Markets Media, "Planetary Awareness Driving the Green Transition"
John Ikerd, Ph.D. "Essentials of Economic Sustainability"
Stuart Valentine, MBA. "Money and Life"
Friday afternoon: Applying Expanded Awareness in Business
Francis Thicke, Ph.D. "Sustainable Dairy Farming and the Future of Organic Food"
John Matthews, Director of Iowa Sustainable Business Alliance, "Consequences of Moving from the Organic Movement to the Organic Industry"
Scott Herriott, Ph.D. "The Seventh Generation Paradox"
Andrew Bargerstock, Ph.D. "The Resonance of Lean and Sustainability"
Friday evening: Art walk: Exploring Fairfield
From the blues to the big top, discover why the Smithsonian picked Fairfield, Iowa as one of the most intriguing small towns to enjoy arts and smarts in the April travel issue: The 20 Best Small Towns to Visit in 2013.
Saturday morning: Applying Expanded Awareness in Technology
David Goodman, Ph.D. "Capital Intensive Clean Tech and Micro-Financed Green Solutions: A Comparison"
Michael Garvin, Renais LLC and advisor to the University of Iowa Executive MBA Program, "Carbon Reduction Strategies for Fossil-fuel Engines"
Steve Fugate, former Director of Iowa Renewable Energy Association, "A Community-based Model for Large-scale Solar PV Installations"
Bob Pepper, President Yava Technologies, Inc. "High Profit Sustainable Mining"
Saturday afternoon: Applying Expanded Awareness in Leadership
Harald Harung, Ph.D. "World-class Performance through Expanded Awareness"
Jim Schaefer, Ph.D. "Raising Consciousness to Ensure Sustainability around the World"
Bob Ferguson, "The Secret Benefit of an Authentic Sustainability Commitment"
Rachel Goodman, Ph.D. "Growth of Consciousness as the Basis of Effective, Sustainable Action"
Panel discussion: Challenges of Introducing Deep Green Business
Founded in 1971, Maharishi University of Management (MUM) offers Consciousness-Based℠ Education, a traditional academic curriculum enhanced with self-development programs like the Transcendental Meditation® technique. Students are encouraged to follow a more sustainable routine of study, socializing and rest without the typical college burnout. All aspects of campus life nourish the body and mind, including organic vegetarian meals served fresh daily. Located in Fairfield, Iowa, MUM is accredited by The Higher Learning Commission and offers bachelor's, master's, and doctoral degrees in the arts, sciences, humanities, and business. Visitors Weekends are held throughout the year. For more information, call the Admissions Office at 800-369-6480 or visit http://www.mum.edu.