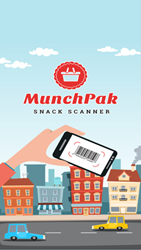 "Our MunchPak Snack Scanner App was inspired quite simply by our customers - who are the most enthuastic snackers you're ever going to find! With this free app, you can easily locate what country your snack is from and discover important, helpful details
Glendale, Arizona (PRWEB) June 03, 2016
MunchPak subscribers know how exciting it is to get a subscription box of delicious snacks delivered to their door. MunchPak's new Snack Scanner App helps to make the snacking experience even more snacktacular! The free app allows users to scan the barcode on the back of their snacks to learn more about them. It's now easy to discover what country snacks are from and read a description of them. If it becomes one of your new got-to-have snacks, use the app to buy it again with a simple click.
With the Snack Scanner App, users will see:

A product photo.
Product description.
Country of origin for the snack.
Users will also have the choice to select the snack as a "favorite" or to buy it now.
Users can easily organize their favorites, adding and removing as they choose.
Users can see their 10 most recently scanned products in the History tab.
The app solves the problem of wanting to know more about a particular snack, having the information right at the user's fingertips. MunchPak's Snack Scanner App is available for free on Google Play and on the App store.
MunchPak is a snack subscription box offering various types of snacks and candy from around the world. Customers receive hand-selected snacks from around the world delivered right to their home or office. Customers can easily customize their box according to box size and snack preference too. MunchPak customers can opt-in to have their MunchPak delivered weekly, biweekly or monthly. MunchPaks are shipped the same day it is ordered. MunchPak aims to make it easy for the average person to try the very best, unique snacks from around the globe.