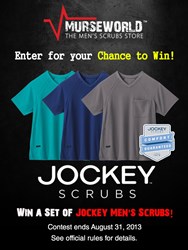 Men often express frustration over feeling like afterthoughts when shopping for scrubs.
West Hollywood, CA (PRWEB) August 21, 2013
Murse World, the popular men's scrubs retailer, is proud to announce the addition of Jockey Scrubs. Jockey™ is a leading manufacturer of medical scrubs used by male nurses and other healthcare professionals. Featuring innovative Tri-Blend fabric, these wrinkle-free scrubs offer a unique multi-directional stretch and a cling-free drape for maximum comfort.
The addition of Jockey™ products to Murse World's online catalog represents the company's latest move toward meeting the company's goal to become the world's largest retailer of medical uniforms and accessories exclusively for men. Earlier this month, Murse World announced that it was relocating to a larger warehouse and adding additional staff in order to keep up with growing customer demand for its products and services.
"Before offering a new brand or product to our customers we always make sure that it meets our high quality standards and shares our company values," said Murse World co-founder Scott Topiol. "During our conversations with the folks over at Jockey™ it quickly became clear that they were truly committed to providing male scrubs wearers with a great product. Men often express frustration over feeling like afterthoughts when shopping for scrubs. Jockey™ truly understands our customers and is committed to providing them with quality uniform choices that we can all be proud of."
As part of this product launch, Murse World will be giving away a free set of Jockey Scrubs at the end of this month. Contest rules and entry form can be found on Murse World's Facebook page under the Jockey Scrubs Sweepstakes tab.
About Murse World: Murse World is the world's first scrubs store exclusively for men. They sell men's scrubs by popular brands such as Dickies, Cherokee, Landau, Koi, Iguana Med, Carhartt, WonderWink, Jockey, and more through their website at http://www.MurseWorld.com. Since their launch in 2011, Murse World has quickly become a uniform leader among men in nursing and other healthcare professionals.