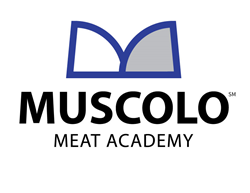 We started Muscolo to provide training to students passionate about a career in the meat business while elevating the trade.
Chicago, IL (PRWEB) April 30, 2015
Master Butcher and founder, Kari Underly and co-founder Megan O'Connor to pioneer the premier higher education program for meat careers, offering Certification for the industry through Muscolo Meat Academy in September 2015.
The "rail-to-retail" concept will provide students with real-world experience while creating a needed standard of excellence within the meat trade. Innovative to higher education, Muscolo Meat Academy is the country's first and only trade school to offer nine-month comprehensive butcher training and Certification.
A testament to the need within the industry, leading brands Bunzl®/Koch Supplies and Victorinox®, have come onboard as founding sponsors to support the vision and industry impact of certification through Muscolo Meat Academy.
"We started Muscolo to provide training to students passionate about a career in the meat business while elevating the trade. Through our butchery school, we have established a standard of quality and excellence within butchery," said founder Kari Underly. "The meat business is evolving and it is time for the next generation of butchers to make their mark."
Muscolo Meat Academy's inaugural class will be the first to receive Muscolo Certification, a symbol of mastery within the butchery profession. Female entrepreneurs and visionaries, Underly, James Beard Award nominee, and O'Connor, founder of the "No Chefs Allowed" radio show, combined their passion and expertise to found Muscolo Meat Academy with the goal to develop professionals trained in all aspects of the butchery trade.
The academy will train students in areas such as meat cutting to charcuterie and specialty meat preparation to entrepreneurship and industry careers.
Muscolo students will experience a learning environment that replicates a real place of work, collaborating with leading butchery professionals in the field. The student-to-teacher ratio will be kept low, to ensure individual attention and assistance.
"We are beyond excited to welcome our inaugural class to Muscolo Meat Academy this fall", said co-founder Megan O'Connor. "Introducing our students to the prestigious world of butchery is going to lead them on rewarding and exciting career paths."
To empower students to attend Muscolo, the Cylia Harriet Foundation has been created to provide a means for students in need of financial support to pursue their dream of butchery. Interested donors can provide a tax-deductible donation by contacting the founders directly at: megan(at)muscolomeatacademy(dot)com.
Brands interested in partnering with the school can visit Muscolomeatacademy.com/Partners to learn how to become a Muscolo Meat Academy sponsor.
About Muscolo Meat Academy
Muscolo Meat Academy is the first butchery trade school in the U.S. to pioneer a comprehensive nine-month standardized butchery training and Certification of skilled graduates. Inspired by the demand for qualified and highly-skilled butchers within the meat trade and ever growing food community, Co-founders Kari Underly and Megan O'Connor combined their expertise and passion to found Muscolo Meat Academy.
As the most comprehensive meat career program, Muscolo Meat Academy offers existing and aspiring professionals a Certification program that encompasses all aspects of the trade. Additionally, the co-founders created the Cylia Harriet Foundation to help students obtain scholarships to the Academy.
The Certified Muscolo, 9-month program will launch Fall 2015 to educate 12 students from around the U.S., who are taking part in Muscolo Meat Academy's innovative "Rail to Retail" curriculum. Graduating students will be highly skilled butchers capable of managing successful operations in the art of meat cutting, preparation and merchandising. Founding sponsors of the school include Bunzl®/Koch Supplies and Victorinox®.
To learn more about Muscolo Meat Academy, visit MuscoloMeatAcademy.com and connect on Facebook, Twitter and LinkedIn.