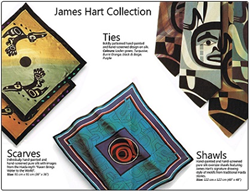 We are committed to providing museum visitors with personalized gifts to help make their time at exhibits even more memorable.
Montreal, QC (PRWEB) January 28, 2016
Monsoon Corporate Gifts, a leading provider of custom gifts in North America, announces today that it has joined the ranks of the prestigious Museum Store Association (MSA)'s members. This membership highlights Monsoon's role as a provider of unique, quality products to museum shops in the United States and Canada.
Museum stores around the world are faced with constantly having to reinvent their offerings. Every new exhibition requires a different approach to emphasize its unique characteristics. The team at Monsoon understands this challenge. The company has extensive experience in creating personalized gifts, such as silk scarves and custom ties, for museum stores. The company works regularly with renowned institutions to add that special touch to gift shop products.
The Museum Store Association is an international organization promoting retail in the nonprofit sector. Members attend a series of conferences and webinars destined to professionals running museum gift shops. Committed to quality, the MSA's online store showcases products by its distinctive members. "We look forward to forging new partnerships with museums," says J.S. Rangi, Monsoon's CEO. "We are committed to providing museum visitors with personalized gifts to help make their time at an exhibit even more memorable," Rangi adds.
Monsoon offers museum shops a comprehensive range of services. The company's team of artists works with clients to come up with unique gift concepts tailored, for example, to a specific exhibit or inspired by a particular work of art. Well-versed in a wide range of techniques from silk screening to digital printing, Monsoon's ties, scarves and shawls have endless design and production possibilities. Some well-known clients include the Museum of Natural History in New York City, the Smithsonian Institute, and the Royal Ontario Museum.
To learn more about how Monsoon can help museum gift shops sell unique, memorable personalized gifts, contact Monsoon Corporate Gifts today.
About Monsoon Corporate Gifts
Founded in 1984, Monsoon creates personalized corporate business gifts for any occasion. Based in Montreal, Quebec, with warehouses in the United States, Monsoon's clients include heads of state, corporations, professional and trade associations, prestigious museums worldwide, sports leagues, hotels, and more. Using an artistic approach, you can promote your organization's brand, offer personalized corporate business gifts to employees, and celebrate business anniversaries with unique corporate gifts. Monsoon's portfolio includes custom silk ties, scarves, woven, printed, or embroidered, tailored to each client's needs.