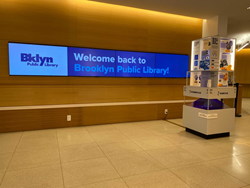 Caring for others was so important to our survival that we evolved to be really good at it. Sometimes we can forget that humans are hardwired for care.
NEW YORK (PRWEB) October 20, 2021
It is scientifically proven that caring for each other is healthy for us individually and collectively; yet, there are so many barriers to receiving good healthcare. That disconnect was the springboard for the Museum of Care, a new museum exploring the past, present, and future of care. Built by MICRO, an organization whose fleet of tiny museums engage communities in conversations about the natural world, and supported by Johnson & Johnson's Center for Health Worker Innovation –an initiative focusing on what individual health care workers need to thrive on the job– the Museum of Care is on view through November 30, 2021 at Brooklyn Public Library's Central Library (10 Grand Army Plaza, Brooklyn, NY) before traveling to New York Public Library branches in Manhattan, Staten Island, and the Bronx followed by a stop in Queens in summer 2022.
About the size of a refrigerator, the special museum takes visitors on an exploration of caring across history and societies, using real stories from the front lines. It asks, "If the science is simple —our bodies and brains are designed to give and receive care— how did healthcare become so complex?"
Amplifying and celebrating the voices of healthcare workers as part of its exploration of the challenges plaguing our current healthcare system, the Museum of Care also models the skills it takes to provide care today and aims to empower people to investigate their local systems and make a change.
Despite its tiny size, the Museum delivers big on various facets of the healthcare system and its workers including:

The Beginnings of Care: Sharing scientific anecdotes and evidence about how people's ability to care for each other drove human evolution; how our bodies and brains are designed to give and receive care; and how the advancement of society has influenced the administration of care.
The Work of Care: Highlighting the skills required to provide care today through the life stories of care workers across the globe: a community health worker from the United States; a midwife working in Africa, and a nurse in the Asia Pacific region.
Care for All: Utilizing quotes of care workers as a roadmap that shows a way forward toward healthcare equity.
Your Role in Care: Emphasizes how the visitor can improve their own health, support the health of their community, and advocate for better working conditions for healthcare workers.
To complement the museum's exhibits, BPL librarians have prepared a series of books for children and adults about caregivers and patient advocacy.
"Caring for others was so important to our survival that we evolved to be really good at it. Sometimes we can forget that humans are hardwired for care," said Charles Philipp, a co-founder of MICRO, the organization that created the museum. "We could not have found a better partner than the Center for Health Worker Innovation to examine the landscape, share these stories, and make it clear to caregivers that we care deeply for them."
"We are excited to once again be working with MICRO to bring their innovative museum model to BPL," said Cora Fisher, Curator of Visual Art Programming at the Brooklyn Public Library. "As we emerge from the disruptions of the past year, we are touched and honored to help shine a light on the stories of frontline workers and the challenges they face as we all look for ways to support and care for each other in the new normal."
The Museum of Care was created with the guidance of an advisory team which included Joanne Peter, Director, Social Innovation, Center for Health Worker Innovation; Jerry Lewis Ong, Assistant Vice President, Temasek; Bolu Brea, Medic in General Practice Based in London, Social Media Activist, Founder of The Omo Yoruba Club; Annette Sampson, Registered Nurse, Warm Springs Health & Wellness Center; Lindsay Portnoy, Associate Professor, Northeastern University's Doctor Of Education Program; Whitney Schreiber, Diabetes Outreach Nurse; Lisa Fitzpatrick, Physician, Medical Epidemiologist, and Founder at Grapevine Health, Madeline Ballard, Co-Founder and Executive Director, Community Health Impact Coalition; and Margaret Gurowitz, Chief Historian, Johnson & Johnson.
MICRO collaborated with HunterGatherer on graphic design for the Museum of Care. HunterGatherer, a multidisciplinary design studio, focuses on telling its clients' stories in ways that are artful, intelligent, elucidating, and sometimes funny. The studio is based in Brooklyn, New York and specializes in art direction, illustration, animation, branding and experience design.
About Brooklyn Public Library
Brooklyn Public Library is one of the nation's largest library systems and among New York City's most democratic institutions. As a leader in developing modern 21st-century libraries, we provide resources to support personal advancement, foster civic literacy, and strengthen the fabric of community among the more than 2.7 million individuals who call Brooklyn home. We provide nearly 65,000 free programs a year with writers, thinkers, artists, and educators from around the corner and around the world. And we give patrons millions of opportunities to enjoy one of life's greatest satisfactions: the joy of a good book.
About MICRO
MICRO works with designers, scientists, and storytellers to create and place six-foot-tall museums in high-impact public spaces like libraries, transit hubs, community centers, and hospital waiting rooms. MICRO's fleet of award-winning museums expand access to science, creating conversations that everyone can join.
Since launching publicly in 2017, MICRO Museums have reached hundreds of thousands of visitors, and have been recognized with the Tribeca Film Institute's New Media Award, SXSW's Place by Design Award, and two Editors' Choice Awards from the World Maker Faire.
For more information, visit http://www.micro.ooo or follow @themicromuseums on Twitter, Facebook and Instagram .
Media Contact:
Meryl Cooper, The COOPERation, meryl@thecooperationinc.com; 917-974-0022
Museum of Care Tour Schedule
October 14-November 30, 2021 - Brooklyn Public Library Central Library, 10 Grand Army Plaza
Brooklyn, NY 11238
December 7, 2021 - January 3, 2022 - New York Public Library Riverside Branch, 127 Amsterdam Avenue, New York, NY 10023
January 4, 2022 – January 31, 2022 - New York Public Library Richmondtown Branch, 200 Clarke Avenue, Staten Island, NY 10306
February 1, 2022-February 28, 2022 - New York Public Library Bronx Library Center Branch, 310 East Kingsbridge Road, Bronx, NY 10458
March 1, 2022-March 31, 2022 - New York Public Library Kingsbridge Branch, 291 West 231st Street, Bronx, NY 10463
April 1, 2022-April 28, 2022 - New York Public Library Baychester Branch, 2049 Asch Loop North, Bronx, NY 10475
Summer 2022 - Queens location TBA