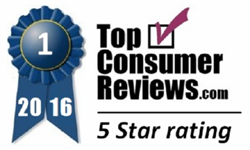 Because of their excellent selection and pricing, Music Box Attic easily earns our top ranking among retailers of Music Boxes in 2016.
Overland Park, KS (PRWEB) October 28, 2016
TopConsumerReviews.com recently gave a best-in-class 5 star rating to Music Box Attic, a leader among online stores that carry Music Boxes.
Music boxes have been treasured keepsakes for hundreds of years. From gentle lullabies to familiar show tunes, the songs played by music boxes can convey a message of love, joy, or even wistful remembrance of times gone by. Music boxes continue to be a popular gift today, with themes that include holidays, Disney characters, sports, and much more. For shoppers looking for the best selection and prices for their next music box purchase, online retailers are often the best choice.
"You'd be hard pressed to find a better selection than what Music Box Attic has to offer," according to Brian Dolezal of TopConsumerReviews.com, LLC. "Their easy-to-use website allows you to shop by occasion, price range, and more, and each music box has ample photos that demonstrate what it looks like inside and out. Our favorite feature of the Music Box Attic shopping experience is the Listening Station: you can listen to any of the available songs in their library and hear exactly how your music box will sound when played. And, for customers looking for a one-of-a-kind, heirloom-quality item, Music Box Attic is one of the few retailers that carries models crafted by Italian makers like Sorrento, Orpheus, and Reuge. Because of their excellent selection and pricing, Music Box Attic easily earns our top ranking among retailers of Music Boxes in 2016."
To find out more about Music Box Attic and other retailers of Music Boxes, including reviews and comparison rankings, please visit the Music Boxes category of TopConsumerReviews.com at http://www.topconsumerreviews.com/music-boxes/.
About Music Box Attic
Located in Sun Valley, California Music Box Attic is a company of musical giftware and collectables that have been appreciated around the world throughout history for many years. They are gifts of love to be played and enjoyed. Music Box Attic carries the most popular lines from Reuge, Le Ore, MDS Prestige, Symphony, and other handmade Italian boxes. Now serving thousands of customers, Music Box Attic places much emphasis on offering quality customer service - whether it takes a few moments or a few hours, they are dedicated to answering any questions or concerns that shoppers might have.
About TopConsumerReviews.com
TopConsumerReviews.com, LLC is a leading provider of independent reviews and rankings of hundreds of consumer products and services. From Music Boxes to Gift Baskets and Canvas Prints, TopConsumerReviews.com delivers in-depth product evaluations in order to make purchasing decisions easier.