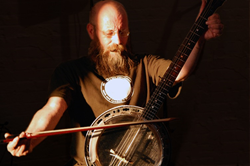 Saint Paul, MN (PRWEB) January 01, 2015
The Saint Paul Conservatory of Music presents the next installment in their Coffee Concert performance series. Paul Metzger will play "Improvisations on Modified Banjo at the University Athletic Club, located at 340 Cedar Ave., at noon on Wednesday, Jan. 7.
Since way back, Metzger has been experimenting, playing his art guitar with a crash cymbal mounted to its bottom and his distinct heavily-modified 23-string banjo. His music is part raga and part free improvisations that wind their way through the inner ear. He pulls the listener inwards and then takes them out the backdoor to experience the other. Paul Metzger is a 2013 McKnight Artist Fellow and has released 14 LPs. His most recent work, Tombeaux, was released on the Nero's Neptune label. Listen to his work at http://www.paulmetzger.net
Coffee concerts are free and open to the public, offered on the first Wednesday of each month from November to May. The performances all begin at noon and are followed by coffee, bagels and an opportunity to meet and talk with the performers.
SPCM's spring semester begins Jan. 12. Learn more and sign up for classes and lessons online at http://www.thespcm.org/.
The SPCM is now accepting registration for their summer camps. The CHILDREN'S MUSIC WORKSHOP runs from July 6-17, 2015 and is open to children who have completed kindergarten up to sixth grade. The Children's Music Workshop, a music day camp for aspiring young musicians, offers a setting in which children can explore their musical knowledge and ability through classes, creative play and presentations by renowned professionals.
MAESTROS OF THE FUTURE is a music and leadership workshop that seeks to motivate, inspire and empower young adults to make a positive impact on their lives and in their communities. It runs from August 3 to 6. Students will explore chamber music under the guidance of active chamber musician and clinician Rena Kraut by playing in duets, trios, and quartets with their peers. Open to 13- to 17-year-olds, this four-day experience will help teens build a foundation of principles that will enable them to become future leaders.
About the company:
The Saint Paul Conservatory of Music is a music education center offering a wide range of musical instruction for all ages, in both individual and group settings. The faculty is of the highest caliber, including artists/teachers with well-established reputations. The Conservatory has systematically developed a music program with demanding, yet age-appropriate expectations, with the ability to effectively teach the youngest of students as well as prepare those seeking to become music majors. They are also able to meet the needs of students who are lifelong learners of music and music appreciation.
Since 1985, the Saint Paul Conservatory of Music has provided high-quality music education to the metropolitan community. Originally under the auspices of The University of St. Thomas, the school became an independent non-profit community music school in June 2001. The facility in downtown Saint Paul provides an exciting venue for the continuing commitment to providing excellence in music for all ages. As an independent organization, they are able to broaden their mission as a music school ensuring that quality music is available to an ever-widening segment of the community.