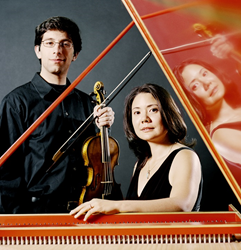 Saint Paul, MN (PRWEB) February 01, 2015
The Saint Paul Conservatory is getting ready for an exciting, music-filled month. They recently announced their schedule of upcoming events, which includes both student and professional performances.
This month's Coffee Concert will be from noon to 1 p.m. on Wednesday, Feb. 4. It will be held at the University Club located at 420 Summit Ave. Titled "Concerti! Brandenburg IV, V & More," the concert will feature Flying Forms and Friends. Flying Forms is a baroque chamber music ensemble based in Saint Paul, MN. The group collaborates with prominent musicians, musicologists and baroque dancers in a variety of both traditional and experimental programs.
Flying Forms members Marc Levine, violin; Tulio Rondón, cello and Tami Morse, harpsichord will be joined by Cléa Galhano, recorder; Alan Kolderie, recorder; Spencer Martin, violin; Miriam Scholz-Carlson, violin; Elizabeth York, viola and Sara Thompson, bass.
The program will include the following:
Brandenburg Concerto IV in G Major, BWV 1049
Johann Sebastian Bach (1685-1750)
Allegro
Andante
Presto
Recorder Concerto in C Major, RV 444
Antonio Vivaldi (1678-1741)
Allegro non molto
Largo
Allegro molto
Brandenburg Concerto V in D Major, BWV 1050
Johann Sebastian Bach (1685-1750)
Allegro
Affetuoso
Allegro
On Saturday, Feb. 7, students will perform at the Saturday Matinee recital. The event is free and will be held in SPCM room 505 from 3-5 p.m. Two sessions of Suzuki solo recitals will be held at 1:30 and 3:30 p.m. on Saturday, Feb. 14. The events are free and will take place in the Sundin Music Hall at Hamline University, located at 1531 Hewitt Ave.
SPCM is holding their spring open house from 4-6 p.m. on Tuesday, Feb. 10. Those interested in the music school should stop by to learn more and see why SPCM is a great place to learn music.
SPCM will be holding a very special event on Saturday, Feb. 28. The English Viol: Music from c. 1550-1650 is a concert featuring music for violas da gamba. Guest artist Wendy Gillespie will be joined by Mary Burke, Julie Elhard and Tulio Rondón. The event starts at 7:30 p.m. at the Twin Cities Friends Meeting House located at 1725 Grand Ave. in St. Paul, MN. Admission is $20 per person and $10 for students and those with low income.
Wendy Gillespie is also the featured artist at this year's Early Music Day, a one-day workshop featuring music of the 17th century. The workshop will take place Sunday, March 1 at the Baroque Room at 275 4th St E Suite 280, Saint Paul. All ages are welcome. Register online at http://www.thespcm.org.
For more information about SPCM and any of their upcoming events, visit http://www.thespcm.org/.
About the company:
The Saint Paul Conservatory of Music is a music education center offering a wide range of musical instruction for all ages, in both individual and group settings. The faculty is of the highest caliber, including artists/teachers with well-established reputations. The Conservatory has systematically developed a music program with demanding, yet age-appropriate expectations, with the ability to effectively teach the youngest of students as well as prepare those seeking to become music majors. They are also able to meet the needs of students who are lifelong learners of music and music appreciation.
Since 1985, the Saint Paul Conservatory of Music has provided high-quality music education to the metropolitan community. Originally under the auspices of The University of St. Thomas, the school became an independent non-profit community music school in June 2001. The facility in downtown Saint Paul provides an exciting venue for the continuing commitment to providing excellence in music for all ages. As an independent organization, they are able to broaden their mission as a music school ensuring that quality music is available to an ever-widening segment of the community.