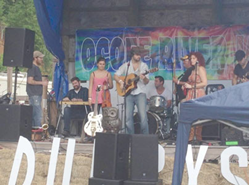 KNOXVILLE, Tenn. (PRWEB) June 21, 2019
Music festival season is in full swing in the Tennessee River Valley and while the seven-state region is known for its breathtaking views and outdoor adventures, it is also carving a way into the music scene among faithful concertgoers. The Tennessee River Valley region is home to unique sounds and when combined with pure southern hospitality and Mother Nature's spectacular beauty, music enthusiasts have one incredible road trip planned.
The Tennessee River Valley has compiled a list of top music festivals in the seven-state region worth visiting this summer and on into fall.
Off The Rails Summer Music Series, Dalton, Ga.
For an intimate gathering in historic downtown Dalton, check out the Off The Rails Summer Music Series. Concerts start at 7:30 p.m. each Friday night through August 2nd. Each Friday night features a different genre of music and festivalgoers are encouraged to bring picnic blankets and lawn chairs. All concerts take place at beautiful Burr Performing Arts Park located in the heart of historic downtown Dalton.
Kuumba Festival, Knoxville, Tenn.
Set for June 28-30, the Kuumba Festival is the largest cultural heritage and music festival in east Tennessee that celebrates African culture while showcasing Knoxville's talent. Now in its 30th year, activities are held at Market Square, Haley Heritage Square and Morningside Park in Knoxville.
Kingsport's Fun Fest, Kingsport, Tenn.
Fun Fest in Kingsport, Tenn. is one of the region's largest summer festivals. The annual event, set for July 12-20, offers over 100 different events, including a parade, sporting events, concerts, an 8K run, block parties, a maker faire and more, throughout the city over a span of nine days. Slated to perform are Sidewalk Prophets, the War and Treaty, Newsboys, Drake White & the Big Fire, Tyler Farr, Andy Grammer and Needtobreathe.
Scopes Festival, Dayton, Tenn.
Bluegrass music lovers with an interest in history should plan a visit to Dayton, Tenn. July 19-20, for the Scopes Festival, an annual event that features a musical reenactment of the famous Scopes Trial. The two-day event includes several performances of the play, craft vendors and demonstrations, a classic car cruise-in and a bluegrass competition where bluegrass players come from all over to show their talent.
W.C. Handy Music Festival, Florence, Ala.
Each year in July, the city of Florence and the Shoals area pay tribute to the "Father of the Blues" and Florence-native W.C. Handy with a ten day family-friendly festival. Over 200 activities and musical events are planned for the event set for July 19-28, with activities taking place each day and night during the ten-day festival. Activities include a street strut and parade, songwriter showcases, a car and truck show, a three-state bike ride, and great jazz and Blues music featuring popular local performers can be heard throughout the Shoals at local eateries, malls, parks and other establishments.
Rocket City Summer Fest -- Moon Landing Concert, Huntsville, Ala.
At 7 p.m. on July 20th, join other space enthusiasts to celebrate the anniversary of the day Neil Armstrong took his historic first step on the Moon. The U.S. Space and Rocket Center will join with celebrations around the world to commemorate the 50th Anniversary of the Apollo 11 Mission with a concert in the shadow of Huntsville's iconic Saturn V replica. The concert will feature hits from the 1960s to today and will include videos, full concert lighting and a high-energy performance. The Moon Landing Concert is part of the Space Camp SummerFest, an annual three-day celebration at the U.S. Space and Rocket Center bringing together alumni of Space Camp and their families from all over the world to reconnect with friends and applaud the accomplishments of fellow alumni.
Ocoee River Jam, Ocoee, Tenn.
Ocoee River Jam brings local, regional and national talent to Ocoee, Tenn. July 26 – 28. As an added bonus, festivalgoers are treated to great views of the Chilhowee Mountain Range. In addition to great music, the festival showcases local and regional crafters and artisans, a kid's zone filled with all sorts of fun activities for children of all ages and an assortment of delectable foods from some of the area's most talents chefs. Festivalgoers are encouraged to bring lawn chairs and blankets to enjoy the performances.
Gospelfest at Loretta Lynn's Ranch
Gospelfest, a smorgasbord of southern gospel and country music artists, along with a talent search where artists compete to win a recording package, a sing-a-long and craft vendors, takes place at Loretta Lynn's Ranch in Hurricane Mills, Tenn. Sept. 6-8. Along with great music to experience, Loretta Lynn's Ranch has thousands of acres to explore and has one of the largest, full service RV parks in Tennessee. Additional activities to enjoy include horseback riding, canoeing, historic museums and cabin rentals.
Riverfest, Decatur, Ala.
Barbeque reigns supreme Sept. 13-14 when Riverfest sets up in Decatur, Ala. Now in its 25th year, Riverfest brings together pitmasters from across the country for some fierce barbeque competition as festivalgoers enjoy family-friendly fun and games and live music featuring musicians with local ties to Decatur. Slated to perform this year is the Shannon Woods Band who was recently nominated country group of the year by the Nashville Music Industry Awards. All four of the band members are North Alabama natives and have toured with several rock and country bands across the south.
Boom Days Heritage Celebration, Fort Payne, Ala.
Held annually in downtown Fort Payne as a tribute to its manufacturing heritage, Boom Days Heritage Celebration is a family-friendly event offering an incredible lineup of music, a children's entertainment area, arts and crafts, exhibits and more. Over 30 bands on seven stages are typically lined up for the event. All outdoor music is presented for free. This year's event is set for Sept. 21-22.
Click here for more information on music festivals or to plan a road trip to the Tennessee River Valley.