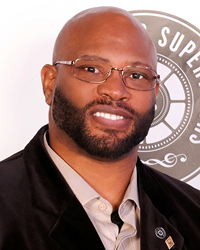 "The Equalizer 2 is a big film; and I am honored to be a part of it.  It is going to be a musical volcano - super hot and spewing over with musical genius." - Jabari Ali, Music Supervisor for The Equalizer 2
LOS ANGELES (PRWEB) July 16, 2018
Nothing complements an action-packed movie, like an equally engaging sound track. This summer, actor Denzel Washington stars in The Equalizer 2, the first sequel in his career. Recognizing the full impact of this long-awaited thriller, film director Antione Fuqua has enlisted the talents of veteran music supervisor Jabari Ali. Ali, who has worked on two of Fuqua's previous hit movies, will offer a little something to please every music lovers' pallet on this sound track. Fans will hear various genres of music represented from heavy hitmakers, as well as, independent artists. The Equalizer 2 is in theaters on July 20th.
The Equalizer 2 is Ali and Fuqua's third time teaming up.  Fuqua previously engaged Ali as music consultant and supervisor for two of his films, Training Day and Brooklyn's Finest.  "Jabari's experience in supervising the music in motion pictures is well cemented," says Director Antione Fuqua. Ali is excited about the project and believes the fans will be pleased. "This is a big film; and I am honored to be a part of it.  It is going to be a musical volcano - super hot and spewing over with musical genius."  Ali has also worked on other films including Waist Deep, Biker Boyz, Gun Hill and FOX TV's Shots Fired.  Ali was nominated for "Best Music Supervision in a Television Limited Series or Movie" by the Guild of Music Supervisors Awards for his work on Shots Fired. 
In the The Equalizer 2, Denzel Washington returns to one of his signature roles in the first sequel of his career. Robert McCall serves an unflinching justice for the exploited and oppressed – but how far will he go when that is someone he loves? Learn more about the movie at http://www.equalizer.movie.
For more information or media inquiries, please contact Keisha Boyd - keisha(at)pickettpr(dot)com or (323)977-9693.