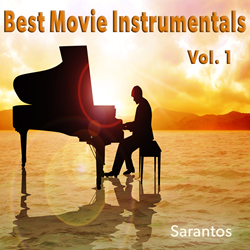 I feel really bad for them...most of them are really nice and pretty cool!
Park Ridge, IL (PRWEB) September 27, 2016
Sarantos Releases A Surprise CD This November With Pop Rock Music Instrumentals To The Delight Of Music Supervisors On Tight Movie Deadlines.
Sarantos loves to surprise fans. Three years ago, there was a surprise Christmas CD, last year a surprise Solo Instrumentals CD and this year - a full instrumental CD with 14 original instrumentals from many different genres. In 3 short years, Sarantos has released 6 CDs with over 84 tracks! For comparison, most artists with all the support of a big label, mutiple producers, lyricists, marketing teams, managers, publicists and publishers put out 1 cd every 3 years. Let's not forget about the monthly music videos and 3 books Sarantos has written that parallel the songs and CDs making Sarantos a content producing machine.
About 6 months ago, Sarantos was contacted by a music supervisor and publisher on a tight deadline. They wanted to find a cool indie sound but were tired of all the tangled rights restrictions and time lag most artists put them thru. The frustration and wasted time of not getting thru the final, last step when a perfect song was found to compliment a movie score or TV scene had reached a boiling point. Sarantos quickly realized an opportunity to work on instrumentals separately from featured songs with lyrics. Having no restrictions, being able to "clear his work right away" and not have to get permission from a whole slew of publishers and other artists, Sarantos is usually able to sign an agreement and allow instrumentals to be used within a few minutes.
Sarantos instrumental CD titled "Best Movie Instrumentals - Vol. 1" with 14 original pop and rock instrumentals will be released worldwide on November 25th, 2016, Black Friday. The CD can be ordered everywhere on sites like iTunes, Spotify, Amazon, Google but also directly from the website as an exclusive limited edition autographed copy. Purchasing on the website will automatically sign you up for a free raffle with a lot of fan extras like a chance to have dinner with Sarantos.
"This full instrumental CD is for the music supervisors who've been tormented while trying to do their job," says Sarantos. "I feel really bad for them. Usually music is so important to major movie releases and prime time TV shows. It sets the mood and helps tell the story. Sometimes lyrics are really important but oftentimes, the instrumentals are needed in the background subtly guiding the viewers. The major labels, publishers and stars usually want hefty payments to allow their work to be used but most of the movie and TV shows out there don't have that kind of budget. There are also a lot of shows that need music. Indie artists can be a great source of music but they are often inconsiderate about being timely with responses and have a lot of hurdles for the music supervisors and publishers to deal with. It can be a big mess. Given the tight deadlines and low budgets most music supervisors have, it's often a tough thankless job. I'm glad I can help them out. They usually deal directly with me and get my music in whatever format they need with a signed agreement within a few minutes. I can even make something customized for them within a week although I have almost every genre and mood already available for them. I don't see a reason why I shouldn't keep putting out an extra CD every year with a wide variety of instrumentals for them to use. Most of them are really nice and pretty cool!"
33% of any music-related sales profits from this CD are going straight to Music & Memory. Sarantos saw the Movie "Alive Inside" and was so touched that the choice became easy on which charity to pick for this CD. They are a non-profit organization that brings personalized music into the lives of the elderly or infirm through digital music technology, vastly improving quality of life.
Sarantos' unique sound has been best described by industry insiders as an "emotionally powerful vocal style masterfully united with music that is a fusion of classic '80s rock blended with modern soft rock and pop music."
Since 2014, Sarantos has won over 31 awards with Akademia LA Music and Beat 100, while also being nominated for the International Music & Entertainment Awards and the Hollywood Songwriting Awards. Even without ever using a professional music studio, label, ad agency or radio promoters, two songs "Dreamer" & "What If I Never See You Again" have spent many months in the top 200 on the majors list in the US for radio airplay, according to the Digital Radio Tracker Top 200 charts. On the independent charts, Sarantos has hit the top 10 twice.
*Because Sarantos wants music shared throughout the world, fans can always find all songs, lyric sheets, videos and books on the website. Sarantos openly gives everyone the right to share song MP3s with anyone via email or any social media platforms.
Fans can sign up for the email list to get the inside scoop first and exclusive content available nowhere else.
Facebook:
https://www.facebook.com/Sarantosmelogia
iTunes & Apple Connect:
http://bit.ly/SarantosAppleStore
Spotify: