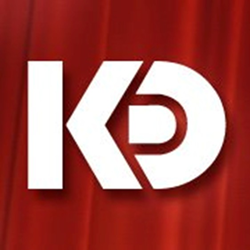 A Leader in Acting, Musical Theatre, and Filmmaking
Dallas, Texas (PRWEB) December 22, 2015
The Lion, The Witch and The Wardrobe, opens to great reviews. Among the cast members is Dallas' own, Megan Ellisor. Megan will leave the cast soon to continue work on HBO's series, The Leftovers.
Other news closer to home…The Addams Family had the final run last week at the Irving Arts Center. KD grads, Coleen Le Blu and Jennie Jermaine were in the cast and the play was directed by KD's head of the Musical Theatre (http://www.kdstudio.com/) program, Michael Serrecchia.
The current Pegasus Living Black & White Murder Mystery, Death is a Bad Habit, features other KD grads, Chad Klein and Leslie Patrick, directed by Michael Serrecchia. Previews December 29-30, runs December 31st – January 24, 2016 at the Charles W. Eisemann Center in Richardson.
Arthur Bonkers, played with earnest charm by KD grad, Dixie Carroll, has no idea what Merlin is hinting about his heritage or why Morgana Le Fey is out to get him. King Arthur, continues through Dec. 27. Theatre Britain at Cox Building Playhouse, Plano.
Don't miss, White Christmas at Theatre Arlington. Cast includes KD musical theatre (http://www.kdstudio.com/) graduate, Ashlyn Nichols. White Christmas is a wonderful Christmas play for the entire family featuring songs by Irving Berlin.
More KD grads on Center Stage! Terrence Knight and Shayla Kelly have a merry good time in, Naughty but Nice – A Christmas Caberet, directed by Nedra James. You've never experienced Christmas like this! Set in South Dallas "hole in the wall," this cabaret will feature Christmas classics with a twist!
Jubliee Theatre – Dallas… KD grad Dominque Brinkley was cast in the musical, "Don't Bother me I can't Cope" and for the Christmas show, Do you Hear What I Hear, with grad Michael Childs.
About KD Conservatory
For more than 30 years, KD Conservatory has been dedicated to the development of acting skills and motion picture production technical skills and to the creation of avenues into the professional world of entertainment. A subsidiary of KD Studio Inc., which offers an Associate of Applied Arts (AAA) degree program in acting, KD Conservatory has been rated "Exemplary" by the Texas Higher Education Coordinating Board. The school is accredited by the National Association of Schools of Theatre (NAST). For more information, visit http://www.kdstudio.com.
Located: 2600 N. Stemmons Fwy, Suite 117, Dallas, Texas 75207 | 214-638-0484 | KDSTUDIO.COM